Looking for something special to cook for dinner? Our gluten-free, dairy-free and meat-free aubergine daal with coconut is sure to fit the bill.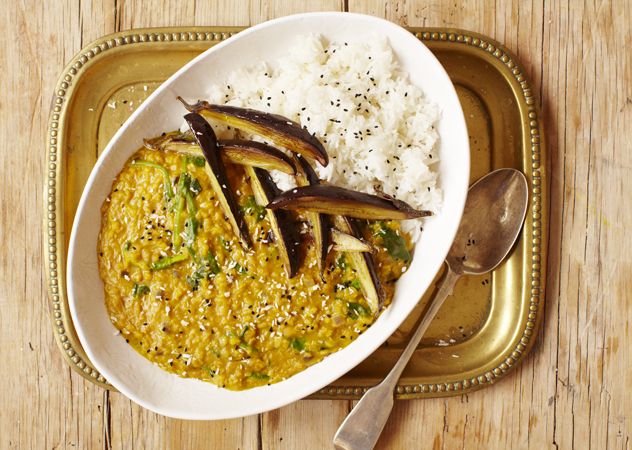 Suitable for Gluten-free | Dairy-free | Vegetarian
Serves 2
Prep time 10 minutes
Cook time 15 minutes
Ingredients
For the daal:
Aubergine topping:
4 baby aubergines, sliced into strips
1 tsp cumin seeds
Coconut topping:
Method
1. Preheat the oven to 180°C/160°C fan.
2. Melt the coconut oil in a large pan and fry the garlic, ginger and onion on medium until softened.
3. Turn the heat up slightly and add in the spices. Allow these to cook for a few minutes, stirring frequently to avoid them burning.
4. Add in the lentils and mix well and then follow with the coconut milk and vegetable stock.
5. Bring this to a boil and then reduce the heat to low and simmer for 40-45 minutes or until the lentils have softened completely.
6. Meanwhile, toss the sliced aubergine strips in a little olive oil and cumin seeds and lay on a baking tray. Roast for 15-20 minutes or until they are golden and softened.
7. In a small bowl, mix the coconut and nigella seeds and prepare the basmati rice according to the packet instructions.
8. When the daal is ready, check for seasoning and turn off the heat. Then add in the spinach and allow to soften in the pan.
9. Serve the rice with the daal spooned on top and top with the aubergine and a teaspoon of the coconut topping.