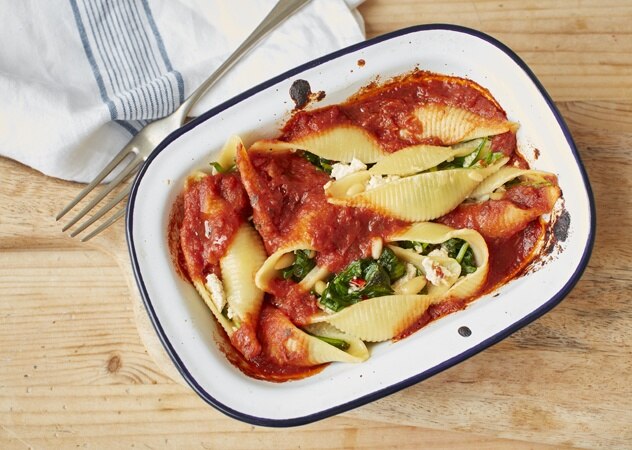 Preparation time 40 minutes
Cooking time 45 minutes
Serves 2
Dairy-free
Egg-free
Meat-free
vegan
INGREDIENTS
200g large egg-free pasta shells (Conchiglioni)
1 tbsp olive oil
2 garlic cloves, crushed
A pinch of chilli flakes
50g pine nuts
300g spinach
200g tofu
For the sauce:
4 tbsp extra virgin olive oil
1 onion, finely sliced
1 garlic clove, crushed
A pinch of chilli flakes
400g tinned chopped tomatoes
NUTRITIONAL INFO
Per 100g
Energy (kcal)125
Protein (g)4.3
Fat (g)6.8
Sat Fat (g)0.8
Carbs (g)11
Sugar (g)1.2
Fibre (g)1.3
Salt (g)0.01
METHOD
1. First make the sauce. In a large saucepan, fry the onion in the oil for 10 minutes. Add in the garlic and chilli and cook for another 10 minutes. Add the tomatoes, season, cover and cook on low for 30 minutes. When cooked, blitz until smooth.
2. Heat the oven to 180ºC/160ºC fan/gas mark 4. Bring a large pan of water to the boil and cook the pasta until al dente. Drain and rinse under cold water until cooled.
3. To prepare the filling, heat the olive oil in a large frying pan and fry the garlic and chilli flakes until fragrant. Add the pine nuts, season, cook until golden and then add in the spinach. Allow to wilt down completely and then drain any excess water. Crumble the tofu into the mixture and cool slightly.
4. Fill the pasta shells with a teaspoon of the spinach mixture and place snugly in a baking dish. Spoon over the tomato sauce and bake for 15 minutes. Serve immediately.