Beef Cobbler with Gluten-Free Cheddar Scones
This filling winter dish makes a delicious change from stew – just add some simple veg.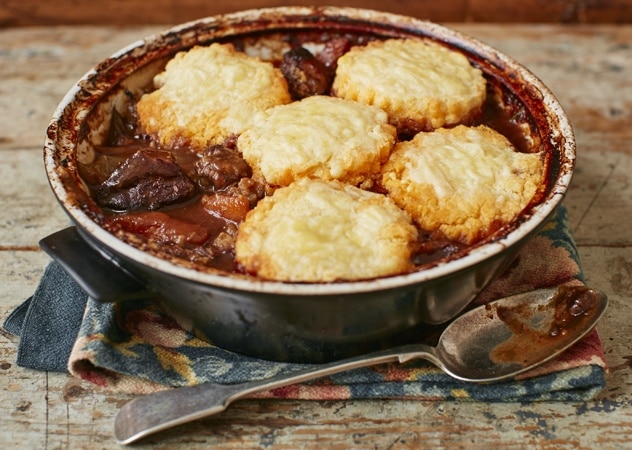 Preparation time: 45 minutes
Cooking time: 4 hours
Serves 4
Ingredients
2 tbsp vegetable oil
900g topside beef, cut into large chunks
2 onions, sliced
2 carrots, cut into chunks
2 celery stalks, cut into chunks
1 tbsp tomato purée
4 tbsp gluten-free plain flour
500ml red wine
600ml gluten-free beef stock
2 bay leaves
1 rosemary stalk
For the scones:
100g mature cheddar, grated
200g gluten-free plain flour
1 tsp baking powder
1 tsp salt
1/2 tsp English mustard powder
A pinch of cayenne pepper
50g butter, cut into small chunks
100ml milk
Method
1. Heat the oven to 170ºC/150ºC fan/gas mark 3. Season the beef. Heat the vegetable oil in a large ovenproof casserole dish and fry the beef in batches on a high heat until sealed and golden.

2. Set aside and then add the onions, carrots and celery and fry until softened. Add in the tomato purée and flour and stir well to coat. Add in the red wine, beef stock, bay leaves and rosemary. Bring to the boil and then return the beef to the pan.

3. Crumple a large piece of greaseproof paper and dampen, lay over the top of the pan and seal with the lid. Bake in the oven for 2 hours. Once that time is up, remove the lid and cook for another hour and 15 minutes.

4. When the stew has 15 minutes left, prepare the scones. Mix together the flour, baking powder, salt, mustard powder and cayenne pepper. Add in the butter and rub between your fingers until the mixture resembles breadcrumbs.

5. Add in 75g of the grated cheese to the scone mixture and combine. Gradually mix in the milk until the mixture just comes together.

6. Gently pat out the dough to a thickness of about one inch. Cut out 6 scones, re-rolling to use up off-cuts.

7. Turn the oven up to 220ºC/200ºC fan/gas mark 7. Gently place the scones on top of the stew, and sprinkle the remaining cheese over. Bake the cobbler in the top of the oven for 25-30 minutes or until the scones are risen slightly and golden. Serve with vegetables and English mustard.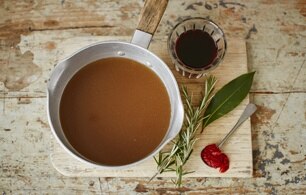 Takes 20 minutes - Serves 4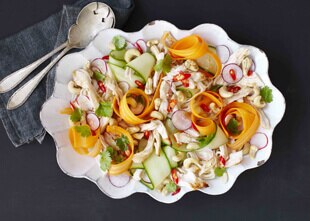 Takes 1 hour - Serves 8-10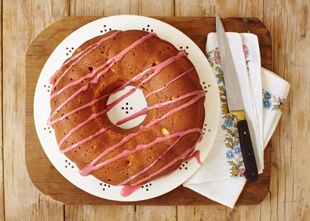 Preparation time: 45 minutes
Cooking time: 4 hours
Serves 4
Ingredients
2 tbsp vegetable oil
900g topside beef, cut into large chunks
2 onions, sliced
2 carrots, cut into chunks
2 celery stalks, cut into chunks
1 tbsp tomato purée
4 tbsp gluten-free plain flour
500ml red wine
600ml gluten-free beef stock
2 bay leaves
1 rosemary stalk
For the scones:
100g mature cheddar, grated
200g gluten-free plain flour
1 tsp baking powder
1 tsp salt
1/2 tsp English mustard powder
A pinch of cayenne pepper
50g butter, cut into small chunks
100ml milk