Bread and butter pudding
Nut milk and soya custard work really well in this tasty dairy-free take on a traditional pudding.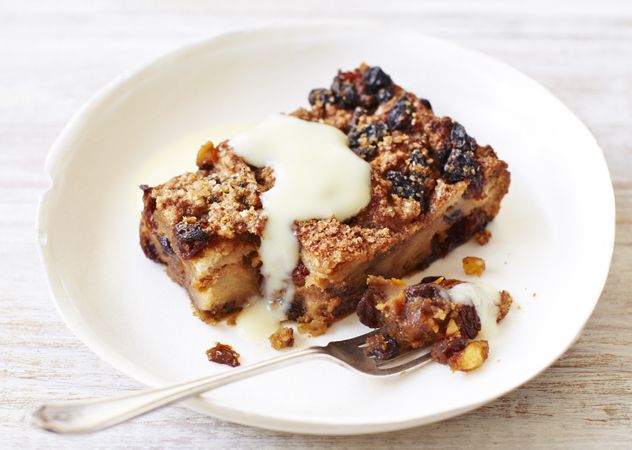 Preparation time: 45 minutes
Cooking time: 1-1¼ hours - Serves 6
Dairy free
Vegetarian friendly
Ingredients
250g dried mixed fruit
Juice and grated zest of 1 small orange
Grated zest of 1 small lemon
225g sliced white bread
275ml unsweetened almond or hazelnut milk
50g dairy-free sunflower spread
90g muscovado sugar
2 tsp mixed spice
1 large egg, beaten
1 tbsp demerara sugar
Whole nutmeg
Soya custard or cream, to serve, if liked
NUTRITIONAL INFO
Per Serving
Kcals 351
Fat(g) 9.5
Sat fat(g) 2
Carbs(g) 63
Sugar(g) 47
Protein(g) 6
Fibre(g) 2
Salt(g) 0.8
Method
1 Put the dried fruit in a bowl and stir in the orange juice and both zests. Set aside.
2 Tear up the bread into small pieces and put in another bowl. Add the nut milk and set aside for 30 minutes to soak up the milk thoroughly. Heat the oven to 180ºC/160ºC fan/gas mark 4.
3 Gently melt the sunflower spread, then mix in the sugar, mixed spice and egg. Add this mixture to the soaked bread, and then stir in the soaked fruits. Mix well.
4 Pack the whole lot into a dish measuring about 20cm square and sprinkle the demerara sugar over, plus a good grating of nutmeg. Put in the oven for 1-1¼ hours until well browned on the top with just a slight wobble. Serve warm or cold with soya custard or cream.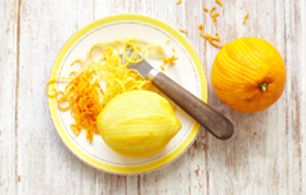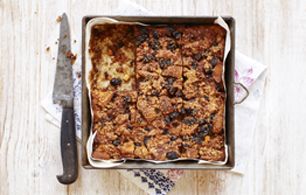 Takes 15 minutes (plus freezing) - Serves 10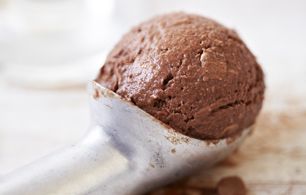 Takes 90 minutes - Serves 6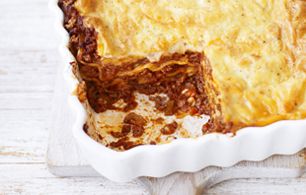 Preparation time: 45 minutes
Cooking time: 1-1¼ hours - Serves 6
Dairy free
Vegetarian friendly
Ingredients
250g dried mixed fruit
Juice and grated zest of 1 small orange
Grated zest of 1 small lemon
225g sliced white bread
275ml unsweetened almond or hazelnut milk
50g dairy-free sunflower spread
90g muscovado sugar
2 tsp mixed spice
1 large egg, beaten
1 tbsp demerara sugar
Whole nutmeg
Soya custard or cream, to serve, if liked
NUTRITIONAL INFO
Per Serving
Kcals 351
Fat(g) 9.5
Sat fat(g) 2
Carbs(g) 63
Sugar(g) 47
Protein(g) 6
Fibre(g) 2
Salt(g) 0.8