Carrot cake with passion fruit frosting
You can use passion fruit for a pretty decoration or, if you prefer, use 2 tsp orange juice for the frosting and either leave the top plain or decorate with more orange zest.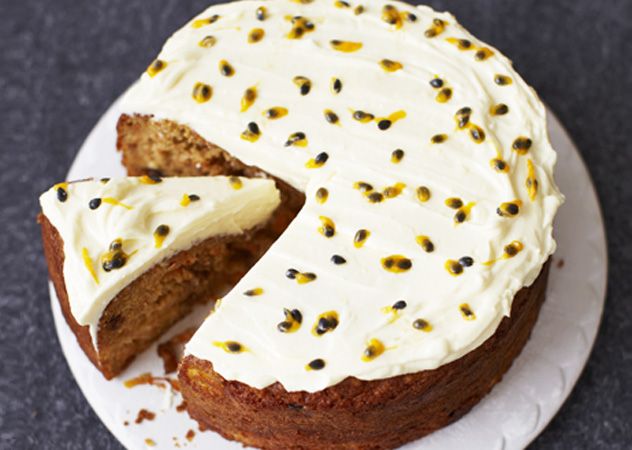 Preparation time: 20 minutes
Cooking time: 50 minutes - Serves 8-10
Ingredients
150ml sunflower oil
225g soft brown sugar
230g tin pineapple chunks in juice
3 large eggs, beaten
250g roughly grated carrot
Zest of 1 orange
100g sultanas
225g gluten-free self-raising flour
1 tsp gluten-free baking powder
1/2 tsp gluten-free bicarbonate of soda
1 tsp xanthan gum
1 tsp ground cinnamon
1 tsp mixed spice
1 tsp cinnamon
FOR THE FROSTING:
25g softened butter
150g full-fat cream cheese
100g icing sugar
2 passion fruit
NUTRITIONAL INFO
Per Serving(makes 8 slices)
Kcals 571
Fat(g) 28
Sat fat(g) 10
Carbs(g) 74
Sugar(g) 54
Protein(g) 7
Fibre(g) 3
Salt(g) 0.9
Method
1. Heat the oven to 180ºC/160ºC fan/gas mark 4. Grease a 19cm springform cake tin and line the base with parchment paper. Put the oil, sugar and the juice from the tin of pineapple in a large bowl and add the beaten egg. Using an electric whisk, blend everything well.
2. Chop the pineapple pieces finely and add to the oil mixture. Stir in the carrot, zest and sultanas.
3. Sift the flour, baking agents and spices into the bowl and mix everything together. Scrape into the prepared tin and put in the oven for 50 minutes, or until a skewer comes out clean. Leave in the tin for 5 minutes, then remove and leave on a wire rack to cool completely.
4. To make the frosting, beat the butter and cream cheese together, then gradually sift in the icing sugar and beat well. Halve the passion fruit and drain the juice from the pulp. Add 2 teaspoons juice to the frosting and blend. When the cake is cool, spread over the top, and top with the passion fruit pulp if you like. Serve.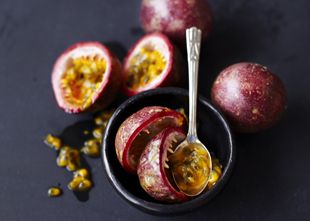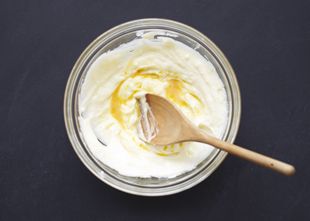 Takes 40 Minutes - Serves 4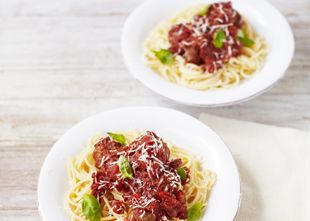 Takes 1 hour 50 Minutes - Serves 4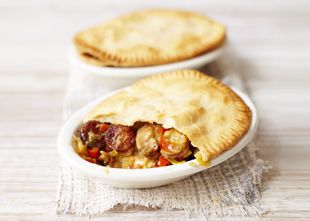 Preparation time: 20 minutes
Cooking time: 50 minutes - Serves 8-10
Ingredients
150ml sunflower oil
225g soft brown sugar
230g tin pineapple chunks in juice
3 large eggs, beaten
250g roughly grated carrot
Zest of 1 orange
100g sultanas
225g gluten-free self-raising flour
1 tsp gluten-free baking powder
1/2 tsp gluten-free bicarbonate of soda
1 tsp xanthan gum
1 tsp ground cinnamon
1 tsp mixed spice
1 tsp cinnamon
FOR THE FROSTING:
25g softened butter
150g full-fat cream cheese
100g icing sugar
2 passion fruit
NUTRITIONAL INFO
Per Serving
Kcals 571
Fat(g) 28
Sat fat(g) 10
Carbs(g) 74
Sugar(g) 54
Protein(g) 7
Fibre(g) 3
Salt(g) 0.9