Courgette 'spaghetti' with nut-free spinach pesto
A quick and easy alternative to your lunchtime salad, simply create raw 'courgetti' to mix with this tasty nut-free pesto of breadcrumbs and cheese.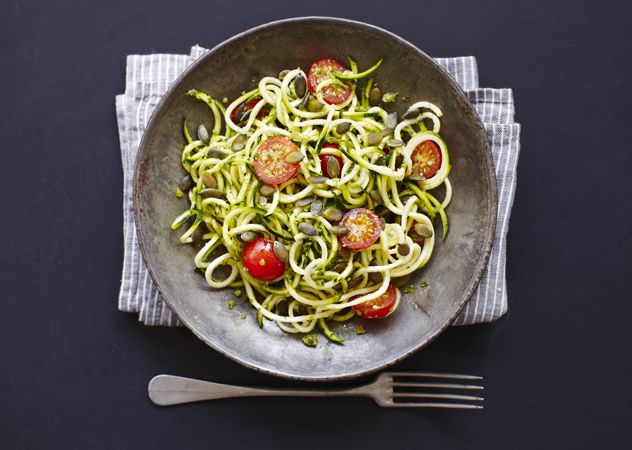 Preparation time: 15 minutes
Serves 1 (pesto serves 4, and will keep for 3 days)
Ingredients
PER PERSON:
1 large courgette
6 cherry tomatoes, halved
1 tbsp sunflower or pumpkin seeds
FOR THE PESTO:
25g stale breadcrumbs (we used day-old ciabatta)
100g washed baby spinach
Zest of 1 lemon
10 tbsp extra virgin olive oil
50g vegetarian Parmesan-style cheese
Method
1. Make the pesto. Toast the breadcrumbs in a dry frying pan for about 3 minutes until lightly crisp and golden, then tip into a small food processor. Add the spinach, lemon zest and oil and whizz to form a smooth paste. Pulse in the cheese.
2. Use a spiraliser or julienne peeler to make courgette 'spaghetti'. In a mixing bowl, add a generous spoon of pesto to the courgette, plus the halved cherry tomatoes. Season with salt and pepper. Toss to coat and then pile into your serving bowl and top with the sunflower seeds.
Leftover pesto ideas:
Drizzle over fish or chicken
Toss into pasta or risotto
Swirl into a frittata
Spread in a panini roll with roasted peppers and grilled halloumi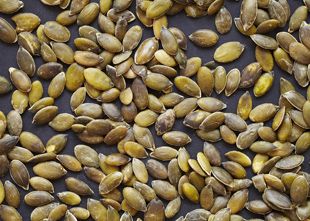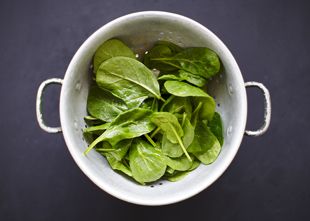 Takes 15 Minutes - Serves 2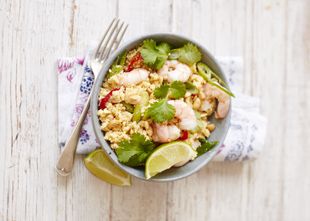 Takes 30 Minutes - Serves 4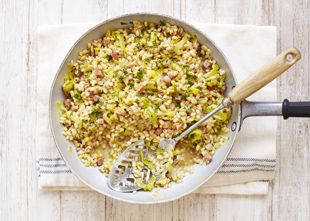 Preparation time: 15 minutes
Serves 1 (pesto serves 4, and will keep for 3 days)
Ingredients
PER PERSON:
1 large courgette
6 cherry tomatoes, halved
1 tbsp sunflower or pumpkin seeds
FOR THE PESTO:
25g stale breadcrumbs (we used day-old ciabatta)
100g washed baby spinach
Zest of 1 lemon
10 tbsp extra virgin olive oil
50g vegetarian Parmesan-style cheese