Dairy-free lasagne
Yes you can still enjoy this family favourite if you're dairy-free. Our version uses soya milk and dairy-free cheese for a just-as-tasty dish.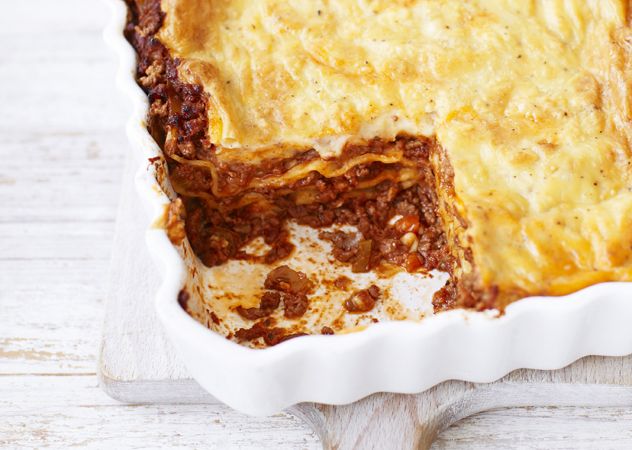 Preparation time: 50 minutes
Cooking time: 40 minutes - Serves 6
Ingredients
1 tbsp olive oil
1 onion, finely diced
1 large carrot, finely diced
2 celery sticks, finely diced
2 garlic cloves, chopped
750g beef mince
Salt and pepper
1/2 tsp dried oregano
500g passata
1 beef stock cube
12 small lasagne sheets (200g)
Green salad leaves, to serve
FOR THE BÉCHAMEL:
75g dairy-free sunflower spread
75g plain flour
600ml unsweetened soya milk
1 bay leaf
40g dairy-free cheddar-style cheese, finely grated
1 tsp caster sugar
Freshly grated nutmeg
NUTRITIONAL INFO
Per Serving
Kcals 662
Fat(g) 38
Sat fat(g) 13
Carbs(g) 43
Sugar(g) 9.5
Protein(g) 37
Fibre(g) 4
Salt(g) 1.4
Method
1. Heat the oven to 180ºC/160ºC fan/gas mark 4. Heat a large casserole pan with the oil, then add the onion, carrot and celery. Fry for about 8 minutes, then add the garlic and beef. Turn the heat up and fry for about 8 more minutes, mashing up the beef with a wooden spoon to get rid of any clumps. Season with pepper.
2. Add the oregano and passata. Crumble in the stock cube and add 200ml hot water. Cover and simmer for about 20 minutes, then remove the lid and simmer for 10 more minutes until thickened. Check the seasoning.
3. Meanwhile, make the béchamel. Put the dairy-free spread and flour in a saucepan and mix with a wooden spoon over a low heat until the spread has melted. Cook for 1 minute, then take off the heat and gradually blend in about half the soya milk, ensuring there are no lumps. Return to the heat, add the rest of the soya milk and the bay leaf and stir constantly over a low heat for 10 minutes until thick and custard-like. Turn off the heat, stir in the cheese, sugar and about ¼ teaspoon nutmeg. Season with salt and pepper to taste. Remove and discard the bay leaf.
4. Now start to layer up your lasagne. Spread ¼ of the meat sauce in the base of a 28m x 20cm lasagne dish. Drizzle over a couple of spoons of the white sauce, then add 3 lasagne sheets. Repeat this to make 4 layers of pasta, finishing up with the last ¼ of meat sauce and the majority of the white sauce in a thick layer.
5. Place in the oven for 40 minutes until golden and bubbling. Leave to sit for 5-10 minutes before serving with a green salad.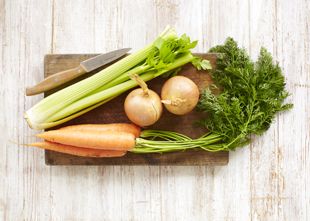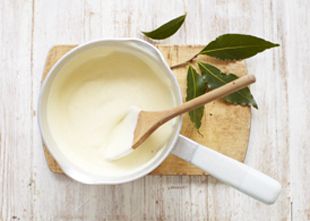 Takes 1 hour - Serves 4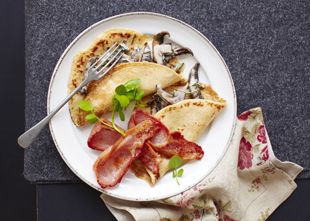 Takes 15 Minutes - Serves 10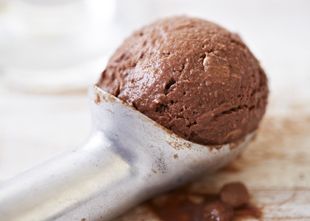 Preparation time: 50 minutes
Cooking time: 40 minutes - Serves 6
Ingredients
1 tbsp olive oil
1 onion, finely diced
1 large carrot, finely diced
2 celery sticks, finely diced
2 garlic cloves, chopped
750g beef mince
Salt and pepper
1/2 tsp dried oregano
500g passata
1 beef stock cube
12 small lasagne sheets (200g)
Green salad leaves, to serve
FOR THE BÉCHAMEL:
75g dairy-free sunflower spread
75g plain flour
600ml unsweetened soya milk
1 bay leaf
40g dairy-free cheddar-style cheese, finely grated
1 tsp caster sugar
Freshly grated nutmeg
NUTRITIONAL INFO
Per Serving
Kcals 662
Fat(g) 38
Sat fat(g) 13
Carbs(g) 43
Sugar(g) 9.5
Protein(g) 37
Fibre(g) 4
Salt(g) 1.4