Egg-free Chicken Caesar Salad
Who says you need eggs for this classic dish? Our egg-free take is just as indulgent and tasty.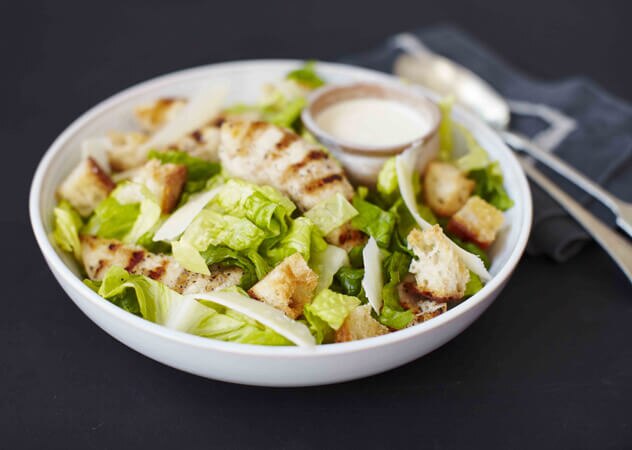 Preparation time: 15 minutes
Cooking time: 15 minutes
Serves 4
Ingredients
2 heads of Romaine lettuce
400g chicken mini fillets

Dressing: 50g plain greek yoghurt
1 garlic clove, crushed
1 tinned anchovy fillet, finely chopped
50g parmesan, shavings
2 thick slices sourdough bread

1/2 lemon, juiced
1 tsp Worcestershire sauce
1 tbsp Dijon mustard
Method
1. In a small bowl, mix the garlic and anchovy with a pinch of salt and pepper until broken down to a coarse paste. Mix through the remaining dressing ingredients and taste for seasoning. This dressing can be made in advance and kept in the fridge.

2. Preheat the oven to 180ºc/160ºc fan. Toss the mini chicken fillets with olive oil and lots of seasoning while you heat up a griddle pan until very hot. Fry the chicken fillets on both sides until you see dark griddle lines and the chicken is cooked through.

3. While the chicken is cooking, cut the sourdough slices into 1 inch cubes and toss with a little olive oil and salt and bake for 5-10 minutes until golden and crisp.

4. Shred the Romaine lettuce and then arrange in a large bowl. Top with the chicken, croutons and parmesan shavings. Serve the dressing on the side.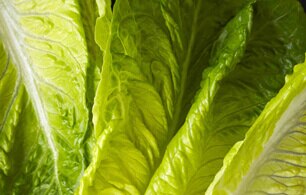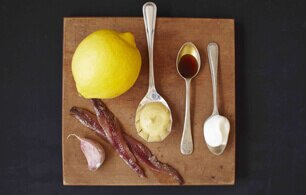 Takes 35 minutes - Serves 4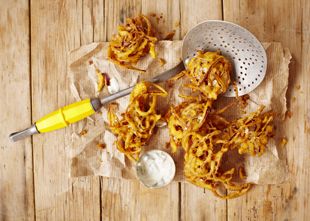 Takes 15 Minutes - Serves 4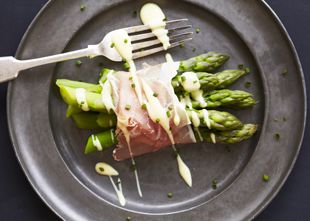 Preparation time: 15 minutes
Cooking time: 15 minutes
Serves 4
Ingredients
2 heads of Romaine lettuce
400g chicken mini fillets

Dressing: 50g plain greek yoghurt
1 garlic clove, crushed
1 tinned anchovy fillet, finely chopped
50g parmesan, shavings
2 thick slices sourdough bread

1/2 lemon, juiced
1 tsp Worcestershire sauce
1 tbsp Dijon mustard