Egg-free Victoria sponge with strawberries and cream
It's the quintessential British cake to bake – and this recipe combines the traditional taste and good looks of the Victoria sponge with the added bonus of being egg-free.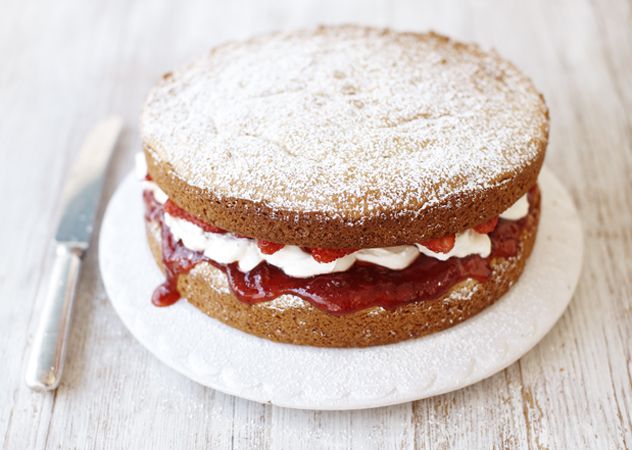 Preparation time: 15 minutes
Cooking time: 25 minutes, plus cooling - Serves 4
Ingredients
70g margarine
60g caster sugar
1 tbsp golden syrup
175g plain flour
1 tbsp baking powder
150ml milk
FOR THE FILLING:
40g strawberry jam
125ml double cream
20g icing sugar, plus extra for dusting
200g fresh strawberries, halved
NUTRITIONAL INFO
Per Serving
Kcals 289
Fat(g) 16
Sat fat(g) 7
Carbs(g) 34
Sugar(g) 18
Protein(g) 2.5
Fibre(g) 1.5
Salt(g) 0.6
Method
1. Heat the oven to 190ºC/170ºC fan/gas mark 5. Grease and line the bases of 2 x 17cm sandwich tins.
2. Put the margarine, sugar and syrup in a bowl and beat until fluffy (use a wooden spoon or electric beater). Mix the flour and baking powder together, then using a wooden spoon, sift in a third of the mix. Add some milk and stir to combine, then keep adding flour and milk until it is all incorporated and a smooth dropping consistency.
3. Divide between the prepared tins and bake for 20-25 minutes, until risen and springy. Cool in the tins for 5 minutes, then transfer to a wire rack and leave until completely cool before filling.
4. When ready to serve, spread the bottom cake with the jam. Whisk the cream with the icing sugar until soft peaks form. Dollop the cream on top of the jam then scatter the strawberries over. Place the second cake on top and dust the top with icing sugar. Eat the same day if possible.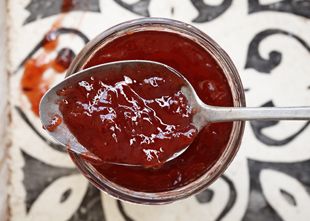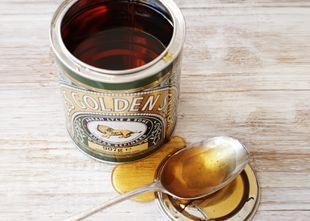 Takes 30 Minutes - Serves 4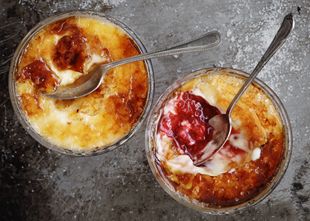 Takes 15 Minutes - Serves 4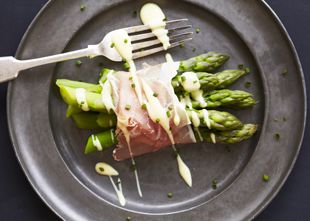 Preparation time: 15 minutes
Cooking time: 25 minutes, plus cooling - Serves 4
Ingredients
70g margarine
60g caster sugar
1 tbsp golden syrup
175g plain flour
1 tbsp baking powder
150ml milk
FOR THE FILLING:
40g strawberry jam
125ml double cream
20g icing sugar, plus extra for dusting
200g fresh strawberries, halved
NUTRITIONAL INFO
Per Serving
Kcals 289
Fat(g) 16
Sat fat(g) 7
Carbs(g) 34
Sugar(g) 18
Protein(g) 2.5
Fibre(g) 1.5
Salt(g) 0.6