Fish pie
A firm family favourite, our recipe has had a dairy-free makeover, so everyone can enjoy this fabulous fish dish.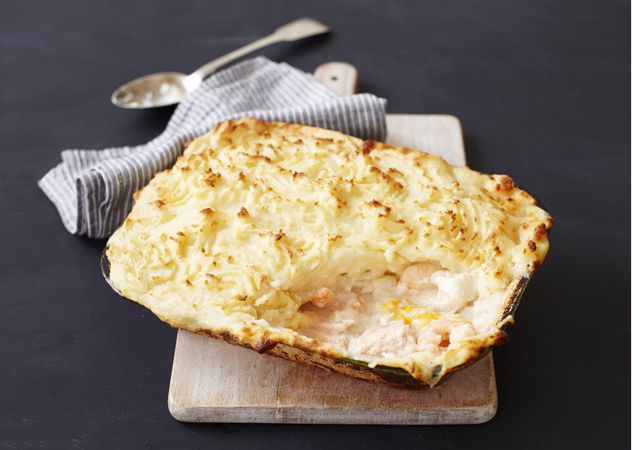 Preparation time: 30 minutes
Cooking time: 35 minutes - Serves 6
Ingredients
1.2kg white potatoes, cut into chunks
60g dairy-free sunflower spread, plus 25g for the mash
125ml soya cream, plus 2 tbsp for the mash
600ml soya milk
1 small onion
6 cloves
1 bay leaf
2 salmon fillets (approx 280g)
2 salmon fillets (approx 280g)
2 cod fillets (approx 375g)
2 smoked haddock fillets (approx 275g)
200g large raw peeled prawns
60g plain flour
4 spring onions, sliced
Handful chopped curly parsley
Peas, to serve
Method
1. Heat the oven to 200ºC/180ºC fan/gas mark 6. Cook the potatoes in a pan of simmering water for about 20 minutes until tender. Drain, return to the pan and dry off over a low heat then mash well. Add the 25g spread and 2 tablespoons of soya cream and season.
2. Meanwhile, put the soya milk in a pan. Stick the cloves in the onion and add to the milk with the bay leaf. Bring to a simmer and cook on a very low heat for 5 minutes. Set aside.
3. Remove any skin from the fish and cut into bite-sized chunks. Put in a baking dish with the prawns.
4. In a medium pan, melt the remaining spread and stir in the flour to make a roux. Strain the infused milk into a jug and then gradually whisk it into the roux. Add the spring onions and remaining soya cream and simmer for a few minutes until the floury taste has gone. Season, add the parsley and pour over the fish. Top with the mash and fluff up with a fork. Put in the oven for 35 minutes until golden on top and bubbling underneath. Let it sit for 5 minutes before serving with peas.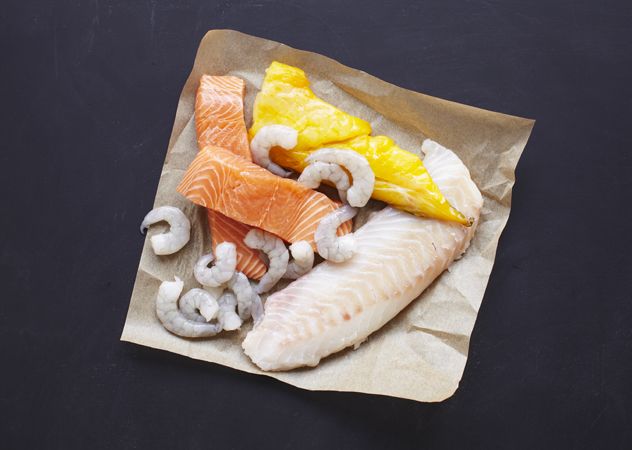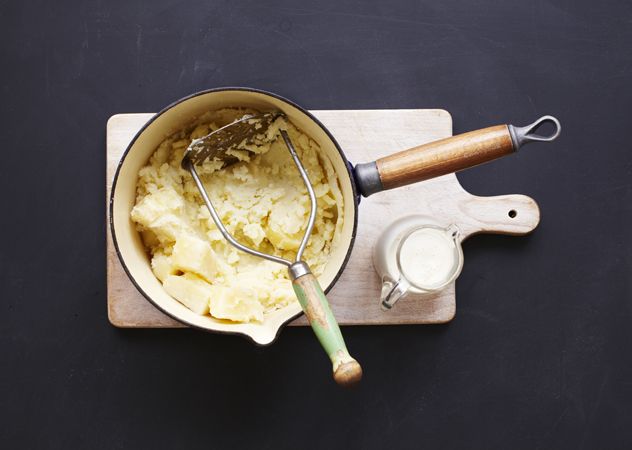 Takes 45 Minutes - Serves 4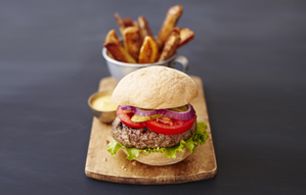 Takes 45 Minutes - Serves 4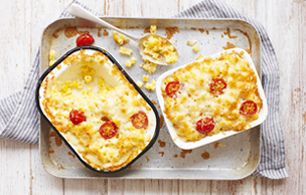 Preparation time: 30 minutes
Cooking time: 35 minutes - Serves 6
Ingredients
1.2kg white potatoes, cut into chunks
60g dairy-free sunflower spread, plus 25g for the mash
125ml soya cream, plus 2 tbsp for the mash
600ml soya milk
1 small onion
6 cloves
1 bay leaf
2 salmon fillets (approx 280g)
2 salmon fillets (approx 280g)
2 cod fillets (approx 375g)
2 smoked haddock fillets (approx 275g)
200g large raw peeled prawns
60g plain flour
4 spring onions, sliced
Handful chopped curly parsley
Peas, to serve