Halloumi and Vegetable Kebabs with Fruit Coleslaw
These fruity veggie kebabs are like a taste of sunshine – perfect for summer eating in the garden.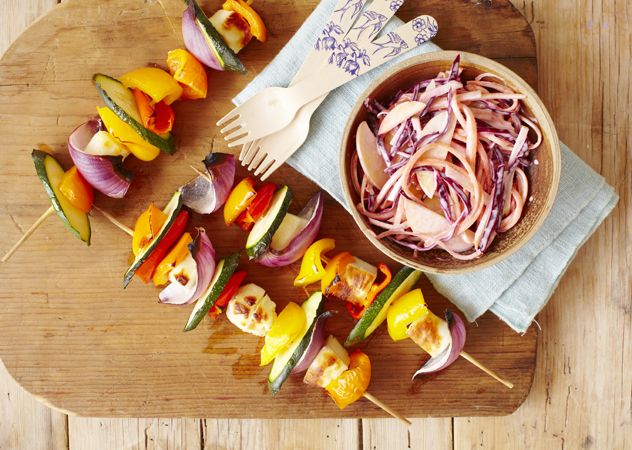 Preparation time: 15 minutes
Cooking time: 15 minutes
Serves 2 - Makes 4 skewers
Ingredients
1 Cypriot halloumi, cubed
1 courgette, sliced
1 red onion, quartered
2 mixed sweet peppers, cut into squares
FOR THE COLESLAW:
1/4 red cabbage, shredded
1 carrot, shredded
1 peach, julienned
1 apple, julienned
1/2 lemon, juiced
2 tbsp mayonnaise
Method
1. Soak four wooden skewers in water while you prepare so they do not burn and turn the grill to high.

2. For the coleslaw, mix together the fruit and vegetables in a large bowl. In a separate small bowl, whisk the mayonnaise and lemon juice with a little seasoning until smooth and then add to the large bowl and stir well to coat. Leave the coleslaw to soften while you prepare the skewers.

3. Thread the ingredients into the skewers randomly, making sure you have an even amount on each.

4. Grill on a baking tray for 12 minutes, turning once, or until the halloumi and vegetables start to go golden and soften. When they are ready, serve immediately with the coleslaw.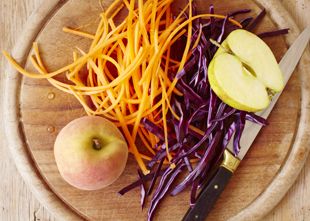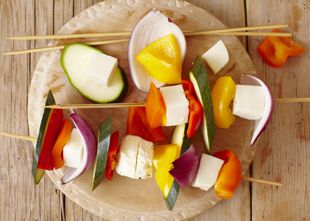 Takes 145 Minutes - Serves 6
Takes 35 Minutes - Serves 6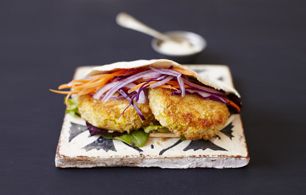 Preparation time: 15 minutes
Cooking time: 15 minutes
Serves 2 - Makes 4 skewers
Ingredients
1 Cypriot halloumi, cubed
1 courgette, sliced
1 red onion, quartered
2 mixed sweet peppers, cut into squares
FOR THE COLESLAW:
1/4 red cabbage, shredded
1 carrot, shredded
1 peach, julienned
1 apple, julienned
1/2 lemon, juiced
2 tbsp mayonnaise