Hot Cross Buns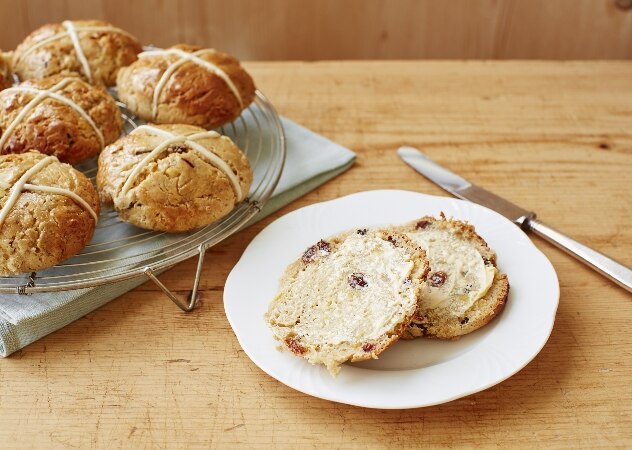 Preparation time: 30 minutes (plus proving)
Cooking time: 25 minutes
Makes 12
Ingredients
300ml almond milk
50g gluten- and wheat-free plain flour
2 tsp mixed spice
7g sachet easy-blend yeast
75g 75g golden caster sugar
1 tsp salt
1 egg
80g sultanas
30g mixed peel
Finely grated zest of 1 orange
For the cross:
80g gluten- and wheat-free plain flour
3 to 4 tsp cold water
2 tbsp clear honey, warmed
Method
1. Place the almond milk and sunflower spread in a pan and heat gently until spread dissolves. Remove from the heat and leave to cool until hand hot (approx. 37ºC).

2. Sift the flour into a warmed mixing bowl with the mixed spice, then stir in the yeast, sugar and salt.

3. Whisk the egg into the cooled milk mixture then make a well in the centre of the dry ingredients and add the liquid.

4. Mix well to bring the mixture together and form a ball. Don't knead. Lift into a clean, lightly oiled bowl, cover loosely with cling film and leave to rise in a warm place until doubled in size.

5. Tip the sultanas, mixed peel and orange zest on to the dough and work in to the mixture. Divide into 12 equal-sized balls and shape into buns using lightly floured hands. (As a guide they should weigh roughly 80g each.)

6. Set them well apart on to 2 non-stick baking trays, cover loosely with oiled cling film and leave to rise for another hour in a warm place.

7. Heat the oven to 220ºC/200ºC fan/gas 7. Mix the flour for the cross with enough water to form a paste, spoon into a disposable piping bag, snip off the end and pipe a cross on top of each bun.

8. Bake for 20–25 minutes until golden and a crust has formed.

9. Remove from the oven, immediately brush with honey to glaze, and allow to cool on a wire rack.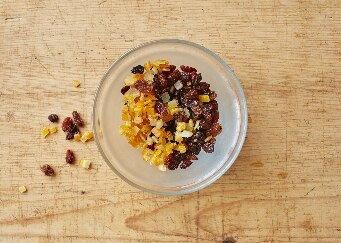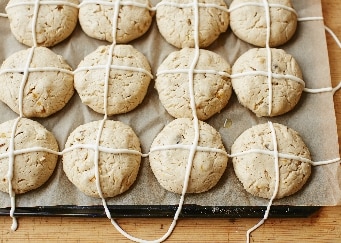 Takes 30 Minutes - Serves 8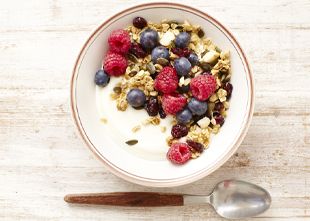 Takes 1 hour 15 Minutes - Makes 10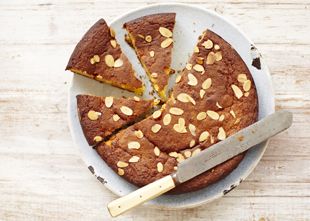 Preparation time: 30 minutes (plus proving)
Cooking time: 25 minutes
Makes 12
Ingredients
300ml almond milk
50g gluten- and wheat-free plain flour
2 tsp mixed spice
7g sachet easy-blend yeast
75g 75g golden caster sugar
1 tsp salt
1 egg
80g sultanas
30g mixed peel
Finely grated zest of 1 orange
For the cross:
80g gluten- and wheat-free plain flour
3 to 4 tsp cold water
2 tbsp clear honey, warmed