Leftover Pie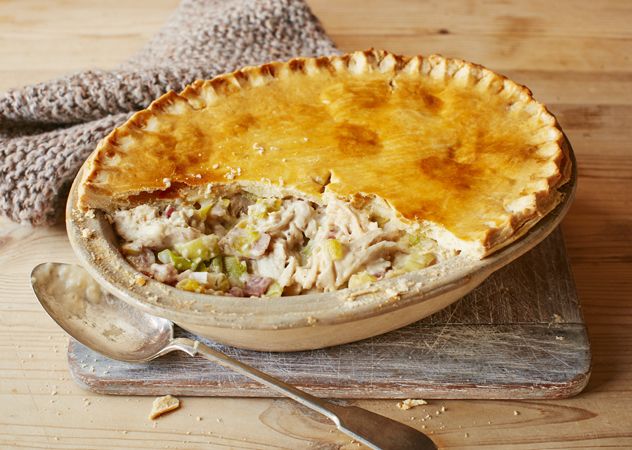 Preparation time: 30 minutes
Cook time: 40 minutes
Serves 4
Ingredients
300g leftover turkey, shredded
2 leeks, sliced
8 rashers smoked streaky bacon, sliced
1 tbsp butter
2 tbsp gluten-free flour
300ml milk
2 tsp Dijon mustard
1 egg yolk, for glazing
For the pastry:
340g gluten-free plain flour
2 tsp xanthan gum
¼ tsp salt
125g butter, cubed
2 eggs, beaten
NUTRITIONAL INFO
Per 100g
Energy (kcal) 213
Protein(g) 10.9
Fat(g) 10.9
Sat Fat(g) 5.6
Carbs(g) 17.1
Sugar(g) 1.4
Fibre(g) 1.4
Salt(g) 0.6
Method
1. Heat the oven to 180ºC/160ºC fan/gas mark 4. Heat a little oil in a large saucepan and fry the bacon until it starts to crisp. Add the leeks and sauté on high for 3-4 minutes or until the leeks are soft.
2. Add the butter and allow to melt, then stir in the flour. Cook for 1-2 minutes before gradually adding the milk. Stir in the mustard and bring the mixture to the boil. Once it has thickened, remove from the heat and add in the shredded turkey meat and season. Mix well, place into a pie dish and set aside.
3. In a large bowl, combine the flour, xanthan gum and salt and then rub in the butter until the mixture resembles breadcrumbs. Gradually mix in the eggs until the mixture just comes together.
4. Brush the rim of the pie dish with some of the egg mixture. Roll out the pastry and place on top. Trim the pastry so it is flush to the side of the dish and then pinch or crimp the edge. Poke a small steam hole in the middle of the pie lid and bake in the oven for 20-25 minutes or until golden and the filling is piping hot.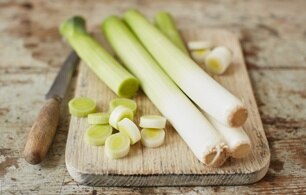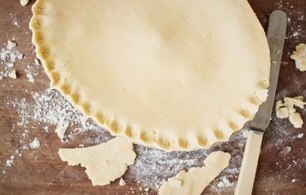 Takes 30 minutes - Serves 8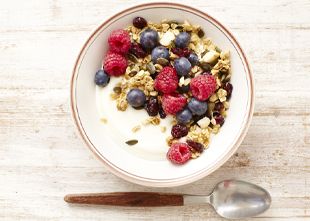 Takes 35 minutes - Makes 16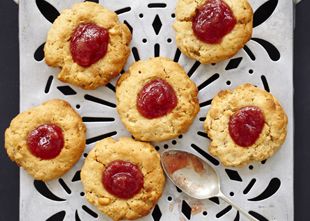 Preparation time: 30 minutes
Cook time: 40 minutes
Serves 4
Ingredients
300g leftover turkey, shredded
2 leeks, sliced
8 rashers smoked streaky bacon, sliced
1 tbsp butter
2 tbsp gluten-free flour
300ml milk
2 tsp Dijon mustard
1 egg yolk, for glazing
For the pastry:
340g gluten-free plain flour
2 tsp xanthan gum
¼ tsp salt
125g butter, cubed
2 eggs, beaten
NUTRITIONAL INFO
Per 100g
Energy (kcal) 213
Protein(g) 10.9
Fat(g) 10.9
Sat Fat(g) 5.6
Carbs(g) 17.1
Sugar(g) 1.4
Fibre(g) 1.4
Salt(g) 0.6