Lemon and rosemary drizzle tray bake
This tempting treat of a cake with fragrant rosemary and zesty lemon, makes gluten- and dairy-free baking a cinch.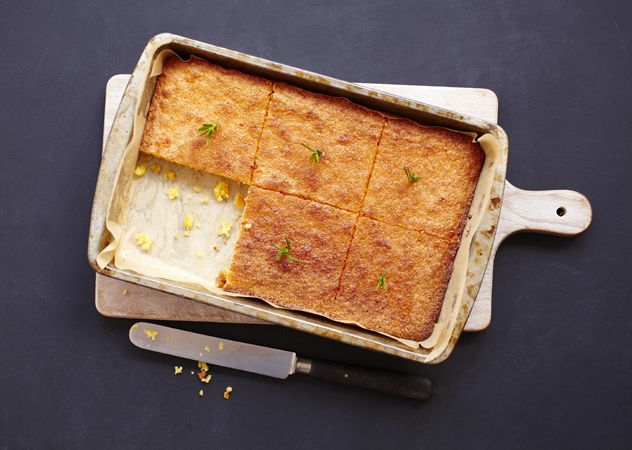 Preparation time: 20 minutes
Cooking time: 25 minutes - Serves 6
Ingredients
Juice and finely grated zest of 1 small lemon
110g caster sugar, plus 2 tbsp
1 sprig rosemary
110g dairy-free sunflower spread
2 large eggs, lightly beaten
50g fine cornmeal
110g ground almonds
1/2 tsp gluten-free baking powder
NUTRITIONAL INFO
Per Serving
Kcals 380
Fat(g) 25
Sat fat(g) 4
Carbs(g) 30
Sugar(g) 24
Protein(g) 7.5
Fibre(g) 0.5
Salt(g) 0.4
Method
1. Heat the oven to 180ºC/160ºC fan/gas mark 4. Line a 20cm x 25cm baking tin with parchment paper. Put the lemon juice (set the zest aside) and 2 tablespoons of sugar in a small pan and heat to dissolve the sugar. Add the rosemary sprig and set aside, swirling to coat the rosemary in the syrup occasionally.
2. Beat the remaining sugar and spread until light and fluffy using an electric whisk. Gradually beat in the beaten egg, then fold in the cornmeal and almonds, followed by the baking powder and lemon zest. Turn into the prepared tin and cook for 25 minutes, until golden brown and springy.
3. Poke holes in the top of the cake with a skewer and pour the infused lemon syrup over the cake. Pinch off little sprigs of the rosemary and push into the cake to mark out 6 portions. Leave to cool, then cut into 6 squares.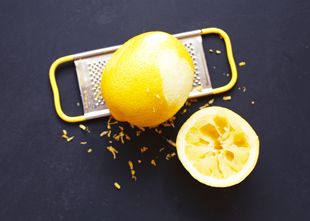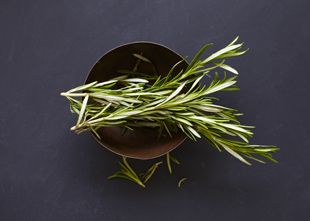 Takes 25 Minutes - Serves 6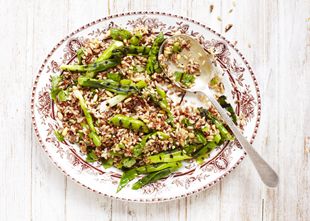 Takes 2 hours 25 Minutes - Serves 6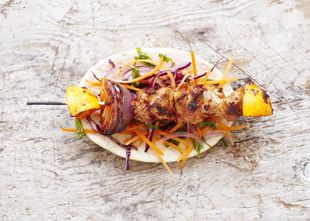 Preparation time: 10 minutes
Cooking time: 15 minutes - Serves 6
Ingredients
Juice and finely grated zest of 1 small lemon
110g caster sugar, plus 2 tbsp
1 sprig rosemary
110g dairy-free sunflower spread
2 large eggs, lightly beaten
50g fine cornmeal
110g ground almonds
1/2 tsp gluten-free baking powder
NUTRITIONAL INFO
Per Serving
Kcals 380
Fat(g) 25
Sat fat(g) 4
Carbs(g) 30
Sugar(g) 24
Protein(g) 7.5
Fibre(g) 0.5
Salt(g) 0.4