Baked mustard chicken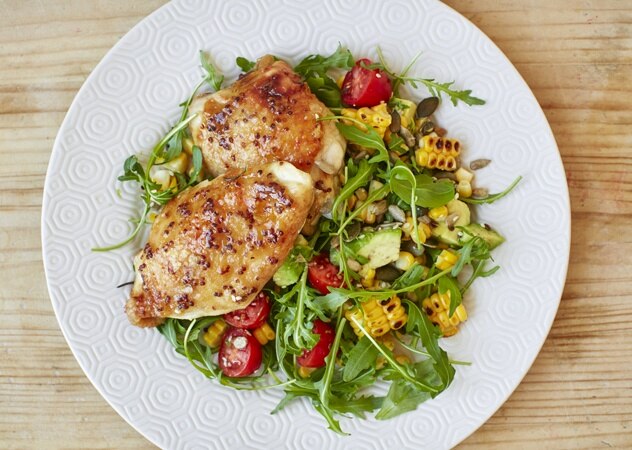 Preparation time 10 minutes
Cooking time 1 hour 10 minutes
Serves 4
Ingredients
1 tbsp Dijon mustard
1 tbsp wholegrain mustard
2 tbsp honey
1 tbsp oil
150ml chicken stock
1 sprig rosemary, separated
8 skin-on chicken pieces
For the salad:
2 large corn on the cobs
50g rocket
10-12 baby plum tomatoes, halved
1 avocado, diced
1 tbsp toasted seeds
½ lime, juice only
NUTRITIONAL INFO
Per 100g
Energy (kcal) 103
Protein (g) 10.5
Fat (g) 5
Sat Fat (g) 1.1
Carbs (g) 3.5
Sugar (g) 2.7
Fibre (g) 1
Salt (g) 0.2
Method
1. Heat the oven to 150°C/130°C fan/gas mark 2. In a small bowl, combine the mustards, honey and oil with a little seasoning.
2. Place the pieces of chicken in a large overproof dish with space in between them. Spoon over the mustard mix and the rosemary and then pour the chicken stock around the chicken. Place in the oven and cook for 1 hour.
3. To make the salad, heat a frying pan to medium and place the whole sweetcorn cobs in the pan. Using tongs, rotate the cobs every few minutes and cook all over for around 20-25 minutes or until the kernels are soft. Transfer to a board and use a sharp knife and tongs to hold the cobs vertical and slice the kernels off.
4. Combine the corn, whilst still hot, with the other salad ingredients and a little seasoning. Once the chicken is cooked through, transfer to the grill and cook for 3-4 minutes or until golden and crisp. Serve two pieces of chicken per person with a quarter of the salad.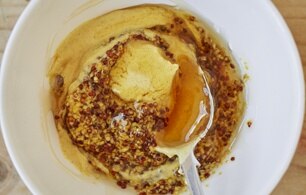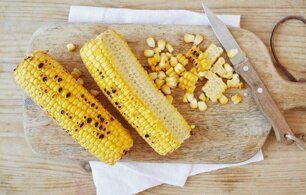 Takes 55 minutes - Serves 10-12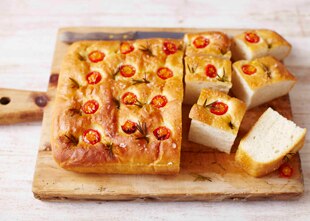 Takes 30 minutes - Serves 8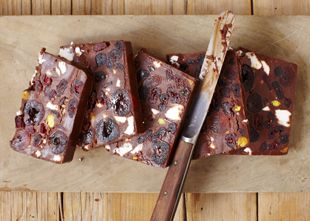 Preparation time 10 minutes
Cooking time 1 hour 10 minutes
Serves 4
Ingredients
1 tbsp Dijon mustard
1 tbsp wholegrain mustard
2 tbsp honey
1 tbsp oil
150ml chicken stock
1 sprig rosemary, separated
8 skin-on chicken pieces
For the salad:
2 large corn on the cobs
50g rocket
10-12 baby plum tomatoes, halved
1 avocado, diced
1 tbsp toasted seeds
½ lime, juice only
NUTRITIONAL INFO
Per 100g
Energy (kcal) 103
Protein (g) 10.5
Fat (g) 5
Sat Fat (g) 1.1
Carbs (g) 3.5
Sugar (g) 2.7
Fibre (g) 1
Salt (g) 0.2