Potato and roasted garlic pizza
If you and your crew need a carb fix, this is it! A surprising – but delicious – combo that is suitable for vegetarians and those who can't eat gluten.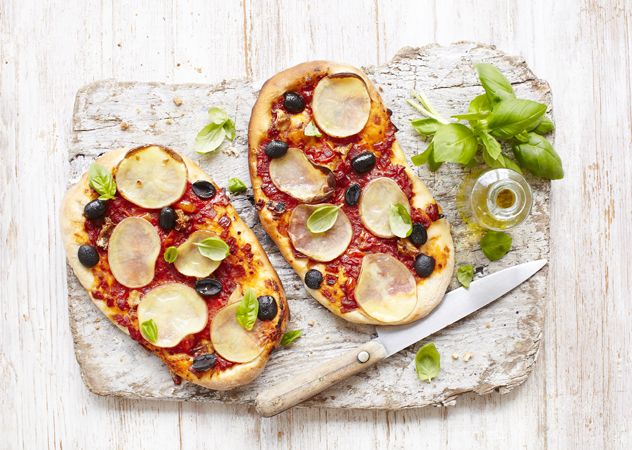 Preparation time: 1 hour 10 minutes
Cooking time: 10–12 minutes - Makes 6 pizzas
Ingredients
2 whole heads of garlic
Olive oil for drizzling
525g red-skinned potatoes, sliced finely
16 pitted olives, halved
Basil leaves, to garnish

FOR THE SAUCE:
2 tbsp olive oil
1 small onion, diced
400g tin cherry tomatoes
Large pinch dried oregano
Pinch sugar
FOR THE DOUGH:
400ml lukewarm water
1 tsp caster sugar
2 tbsp olive oil
7g sachet quick yeast
500g white bread flour
1/2 tsp salt
Method
1. Pour 400ml lukewarm water into a jug. Add the sugar, oil and yeast and stir to mix. Set aside for a few minutes for the yeast to get nice and bubbly. Sift the flour and salt together into a large bowl and make a well in the centre. Gradually add the liquid, bringing the dough together with your hand.
2. Transfer to a floured work surface and knead the dough for 5 minutes until springy and soft. Shape into a ball and put back in the bowl. Cover with a damp tea towel and leave in a warm place for 1 hour to rise.
3. Heat the oven to 200ºC/180ºC fan/gas mark 6. Remove the outer layers of papery skin from the garlic heads and then place whole in a square of foil and drizzle with oil. Wrap up and bake for 45 minutes or until soft. Set aside to cool.
4. To make the sauce, heat the oil in a pan, add the onion and cook for 5 minutes. Add the tomatoes, oregano, sugar and some seasoning and simmer for 20 minutes until thickened.
5. Add the sliced potatoes to a large pan of bubbling water and cook for 8-10 minutes until tender, making sure they are cooked through. Drain.
6. Turn the oven up to 240ºC/220ºC fan/gas mark 8. Knock the pizza dough back and divide into 6 shape into thin rounds on oiled trays to make pizza bases. Top with the tomato sauce and potato slices then squeeze the garlic from their skins, mash a little and dot around the pizzas. Add the olives. Drizzle with a little oil and pop in the oven for 10-12 minutes until the dough is risen and golden. Garnish with basil and serve.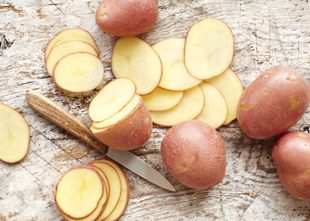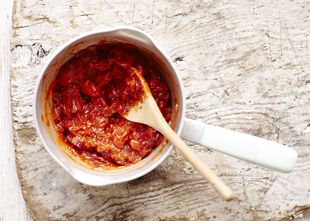 Takes 45 Minutes - Serves 4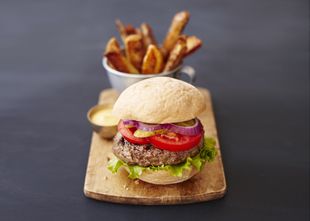 Takes 45 Minutes - Serves 4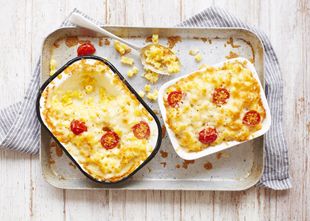 Preparation time: 1 hour 10 minutes
Cooking time: 10–12 minutes
Makes 6 pizzas
Ingredients
2 whole heads of garlic
Olive oil for drizzling
525g red-skinned potatoes, sliced finely
16 pitted olives, halved
Basil leaves, to garnish

FOR THE SAUCE:
2 tbsp olive oil
1 small onion, diced
400g tin cherry tomatoes
Large pinch dried oregano
Pinch sugar
FOR THE DOUGH:
400ml lukewarm water
1 tsp caster sugar
2 tbsp olive oil
7g sachet quick yeast
500g white bread flour
1/2 tsp salt