Salmon and Spinach Roulade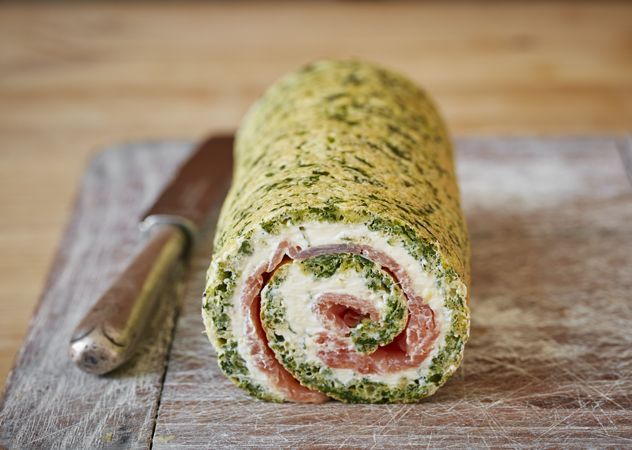 Preparation time: 20 minutes, plus chilling
Cook time: 10 minutes
Serves 8 (as a starter)
Ingredients
200g spinach
4 large eggs, separated
50g gluten-free self-raising flour
1 tsp xantham gum
Pinch cayenne pepper
50g parmesan, grated
For the filling:
180g cream cheese
½ a lemon, zest only
2 tbsp dill, chopped
200g smoked salmon
NUTRITIONAL INFO
Per 100g
Energy (kcal) 172
Protein(g) 12.3
Fat(g) 11.1
Sat Fat(g) 5.3
Carbs(g) 5.2
Sugar(g) 0.9
Fibre(g) 0.8
Salt(g) 1.1
Method
1. Heat the oven to 180ºC/160ºC fan/gas mark 4 and line a 30x20cm tin with greaseproof paper. In a large pan, wilt the spinach with a little bit of water. Allow to cool, finely chop and then squeeze out as much liquid as possible.
2. Mix the spinach with the egg yolks, flour, xanthan gum, cayenne pepper and 30g of the grated parmesan. In a large bowl, whisk the egg whites until stiff and then use a third to loosen the spinach mixture. Fold in the remaining egg whites.
3. Sprinkle the remaining parmesan onto the greaseproof paper in the tin. Spoon the spinach mixture into the tin, smooth and bake for 10 minutes or until just golden.
4. While the roulade is baking, mix together the cream cheese, lemon and dill. When the roulade is baked, turn it immediately on to a large piece of greaseproof paper and roll it up from the shortest side along the length to create a short, thick roll. Allow to cool.
5. Once the roulade is cooled completely, unroll it gently and smooth on the cream cheese mixture. Top with the smoked salmon and press the filling down a little so it is smooth and compact. Roll up the roulade again very tightly, wrap in cling film and chill until firm. Slice thickly to serve.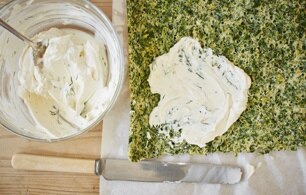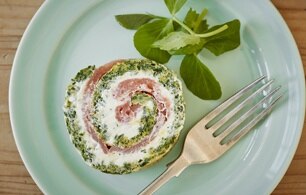 Takes 4 hours 45 minutes - Serves 4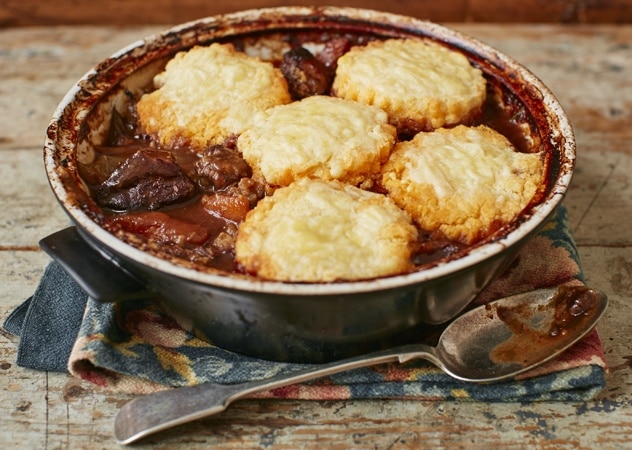 Takes 40 minutes - Serves 4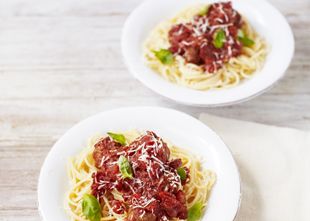 Preparation time: 20 minutes, plus chilling
Cook time: 10 minutes
Serves 8 (as a starter)
Ingredients
200g spinach
4 large eggs, separated
50g gluten-free self-raising flour
1 tsp xantham gum
Pinch cayenne pepper
50g parmesan, grated
For the filling:
180g cream cheese
½ a lemon, zest only
2 tbsp dill, chopped
200g smoked salmon
NUTRITIONAL INFO
Per 100g
Energy (kcal) 172
Protein(g) 12.3
Fat(g) 11.1
Sat Fat(g) 5.3
Carbs(g) 5.2
Sugar(g) 0.9
Fibre(g) 0.8
Salt(g) 1.1