Salmon with quinoa and a fennel, radish, orange and date salad
Using a side of salmon makes this pretty, colourful and healthy dish feel really special.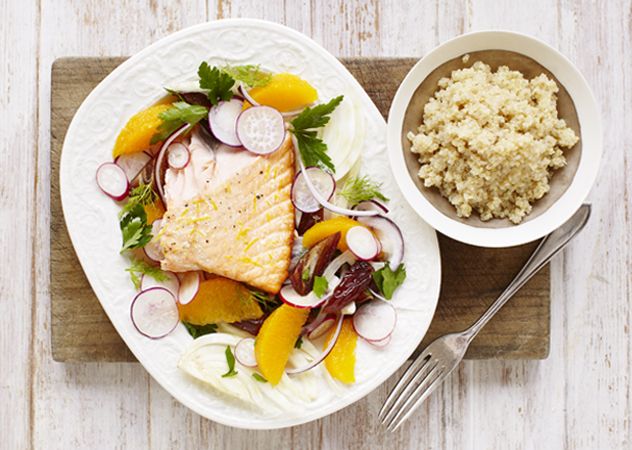 Preparation time: 15 minutes
Cooking time: 40 minutes - Serves 6
Gluten free
Egg free
Dairy free
Ingredients
1kg side of salmon fillet, at room temperature
1 tbsp extra virgin olive oil
Zest of 1 lemon, plus slices to garnish
Black pepper
250g quinoa
500ml gluten-free chicken or vegetable stock made from 1 cube
FOR THE SALAD:
1 head of fennel, thinly sliced
1 small red onion, thinly sliced
12 radishes, sliced thinly
125g pitted dates, halved
3 oranges
1 tbsp red wine vinegar
2 tbsp extra virgin olive oil
1 small pack flat-leaf parsley, chopped
NUTRITIONAL INFO
Per Serving
Kcals 545
Fat(g) 26
Sat fat(g) 4
Carbs(g) 36
Sugar(g) 16
Protein(g) 41
Fibre(g) 3.5
Salt(g) 0.8
Method
1. Heat the oven to 190ºC/170ºC fan/gas mark 5. Tear a large piece of foil big enough to wrap the salmon in. Place the foil in a large baking dish and lay the salmon inside. Rub with the oil, sprinkle the zest over and add some freshly ground black pepper. Wrap in the foil and cook for about 30-40 minutes until just cooked. The fish should come away in large flakes when parted gently with a fork.
2. Rinse the quinoa in a sieve under cold running water. Place in a large lidded pan. Add the stock, bring to a rolling boil, then cover and simmer for 10-12 minutes until just cooked (it should have a little bite to it). Let it sit for 5-10 minutes, then arrange around the edges of a large platter.
3. Put the fennel, onion, radishes and dates in a large salad bowl. Cut the tops and bases of the oranges so they sit flat on the work surface. Using a fruit knife, cut away the skin and pith of one orange, following the curve of the fruit downwards. Holding the fruit over a bowl to catch the juice, cut between the membranes to release the segments. Repeat with the other two oranges. Add the segments to the salad.
4. Whisk 1 tablespoon of the orange juice with the red wine vinegar and oil. Season the salad with pepper, add the parsley (save a little back to garnish the fish) and dressing and toss well. Set aside.
5. Unwrap the cooked salmon. There will be some white proteins on the flesh; scrape away. Using two fish slices, lay the salmon in the middle of the platter and dress with lemon slices and a little parsley. Serve with the salad.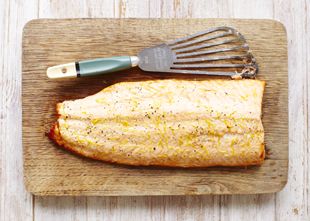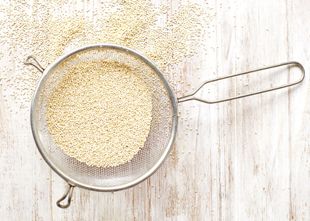 Takes 25 Minutes - Serves 2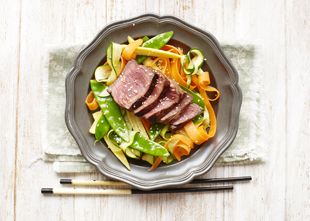 Takes 70 Minutes - Serves 4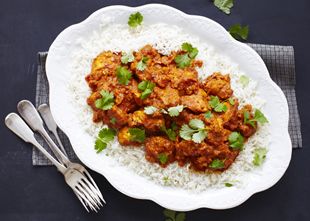 Preparation time: 15 minutes
Cooking time: 40 minutes - Serves 6
Gluten free
Egg free
Dairy free
Ingredients
1kg side of salmon fillet, at room temperature
1 tbsp extra virgin olive oil
Zest of 1 lemon, plus slices to garnish
Black pepper
250g quinoa
500ml gluten-free chicken or vegetable stock made from 1 cube
FOR THE SALAD:
1 head of fennel, thinly sliced
1 small red onion, thinly sliced
12 radishes, sliced thinly
125g pitted dates, halved
3 oranges
1 tbsp red wine vinegar
2 tbsp extra virgin olive oil
1 small pack flat-leaf parsley, chopped
NUTRITIONAL INFO
Per Serving
Kcals 545
Fat(g) 26
Sat fat(g) 4
Carbs(g) 36
Sugar(g) 16
Protein(g) 41
Fibre(g) 3.5
Salt(g) 0.8