Spiced stuffed Aubergine with Bulgur Wheat and Dill
Stuffed vegetables always make for a delightfully filling meal and aubergines are one of the best.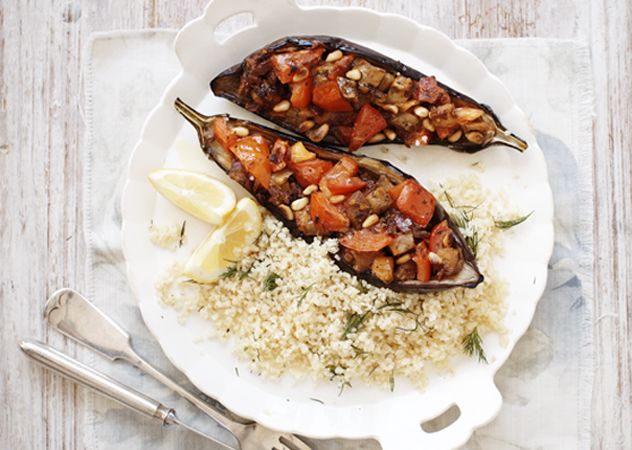 Preparation time: 45 minutes - Serves 2
Ingredients
2 aubergines, halved lengthways
2 tbsp extra virgin olive oil, plus extra for drizzling
1 red onion, finely chopped
2 garlic cloves, chopped
1/4 tsp ground cumin
1/4 tsp ground coriander
1/4 tsp dried mint
Large pinch ground cinnamon
3 ripe tomatoes, chopped
25g golden raisins
1 tbsp pine nuts
120g bulgur wheat
Handful chopped dill
Lemon wedges, to serve
Method
1. Heat the oven to 190ºC/170ºC fan/gas mark 5. Using a dessert spoon, scoop out the flesh of the aubergine halves and chop, leaving a ½cm rim of flesh around the edges. Rub some olive oil over each aubergine half, inside and out, and place in a shallow baking dish. Cook for 35 minutes or until tender.
2. Meanwhile, heat 2 tablespoons of oil in a frying pan and add the onion. Cook for 5 minutes, then add the chopped aubergine and garlic. Cook for another 5 minutes at a fairly brisk heat then add the spices, chopped tomatoes, 3 tablespoons of water and the raisins and simmer until reduced and sticky.
3. Pile the sauce into the aubergine halves and top with the pine nuts. Drizzle generously with more olive oil then return to the oven for 10 minutes until the pine nuts are just golden.
4. Meanwhile, cook the bulgur wheat according to pack instructions. Serve with the stuffed aubergine, strewn with chopped dill, and a lemon wedge for squeezing.
Tip!
If you don't like dill, swap it for flat leaf parsley. Serve with a spoon of Greek yogurt if you can eat dairy. Swap the bulgur for long-grain brown rice if you can't eat gluten.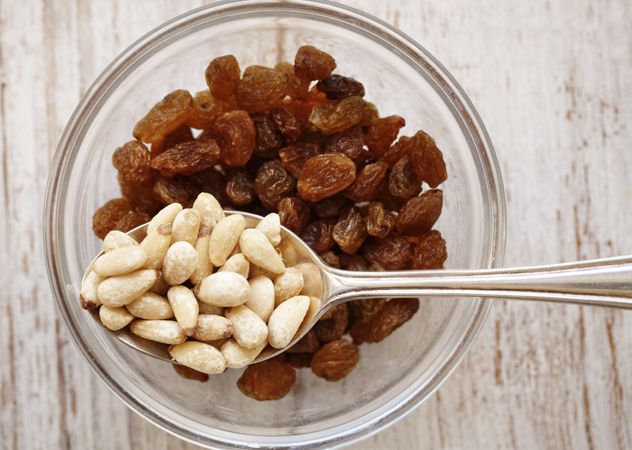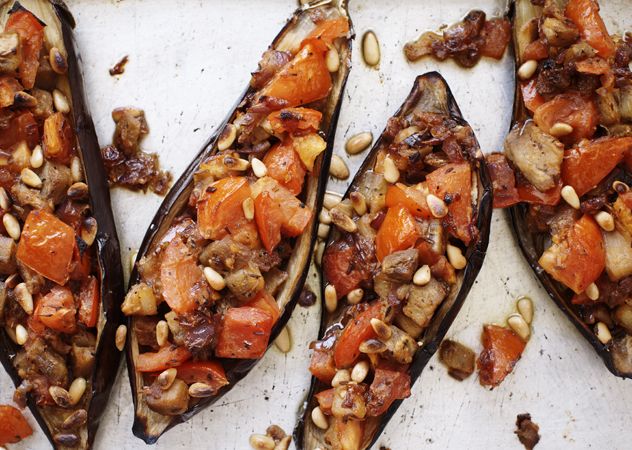 Takes 1 Hour 20 Minutes - Serves 6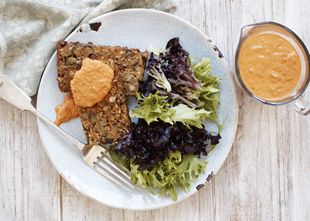 Takes 50 Minutes - Serves 4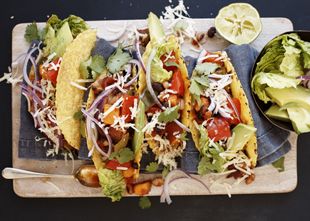 Preparation time: 45 minutes - Serves 2
Ingredients
2 aubergines, halved lengthways
2 tbsp extra virgin olive oil, plus extra for drizzling
1 red onion, finely chopped
2 garlic cloves, chopped
1/4 tsp ground cumin
1/4 tsp ground coriander
1/4 tsp dried mint
Large pinch ground cinnamon
3 ripe tomatoes, chopped
25g golden raisins
1 tbsp pine nuts
120g bulgur wheat
Handful chopped dill
Lemon wedges, to serve