Squash and spinach lasagne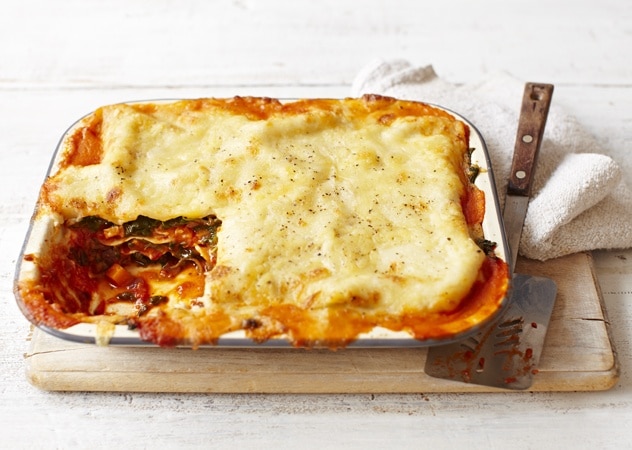 Preparation time: 1 hour
Cook time: 45 minutes
Serves 6
Ingredients
600g butternut squash (about half a large one), peeled and cubed
2 red onions
4 tbsp extra virgin olive oil
2 garlic cloves, crushed
2 x 400g tins cherry tomatoes in natural juice
¼ tsp dried oregano
½ tsp fresh spinach, washed
Knob of butter
9 lasagne sheets
100g mozzarella cheese
For the white sauce: 75g butter
75g plain flour
600ml milk
Freshly grated nutmeg
Method
1. Heat the oven to 200ºC/180ºC fan/gas mark 6. Cut the onions into small chunks and scatter these and the squash into a large roasting dish, drizzled with 2 tbsp of the oil. Season well and roast for 45 mins or until very soft and slightly charred.
2. Meanwhile, heat the remaining oil in a pan and add the garlic. Cook very gently for 1 min (do not allow to colour) then add the cherry tomatoes, oregano, sugar and some salt and pepper. Bring to a boil and simmer gently for 20 mins until thickened.
3. For the white sauce, put the butter, flour and milk in another pan and bring to a gentle boil, whisking all the time until thickened. Turn the heat right down and simmer for a further 5 mins or so to cook out any raw flour taste. Season and add a generous grating of nutmeg (it will seem very thick but don't worry).
4. Wilt the spinach in a large hot frying pan (in two batches if necessary) then drain well. Return the whole lot to the pan and season. Add a knob of butter and a little more nutmeg.
5. Take a 28x20cm lasagne dish and spread a third of the tomato sauce over the base, followed by a third of the spinach and a third of the butternut mixture. Press 3 lasagne sheets on top. Spread a couple of spoons of the white sauce over (leave plenty for the top layer). Repeat the layers twice more, adding the whole of the remaining white sauce to the last layer of lasagne. Sprinkle the cheddar on top followed by torn mozzarella.
6. Bake the lasagne for 45 mins until golden and bubbling. Serve with a rocket salad.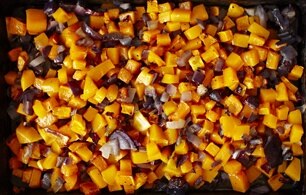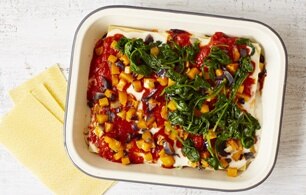 Takes 30 minutes - Serves 2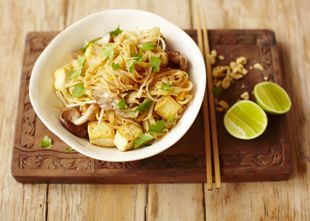 Takes 1 Hour 20 minutes - Serves 4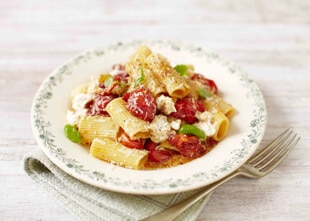 Preparation time: 1 hour
Cook time: 45 minutes
Serves 6
Ingredients
600g butternut squash (about half a large one), peeled and cubed
2 red onions
4 tbsp extra virgin olive oil
2 garlic cloves, crushed
2 x 400g tins cherry tomatoes in natural juice
¼ tsp dried oregano
½ tsp fresh spinach, washed
Knob of butter
9 lasagne sheets
100g mozzarella cheese
For the white sauce: 75g butter
75g plain flour
600ml milk
Freshly grated nutmeg