Teriyaki vegetable stir-fry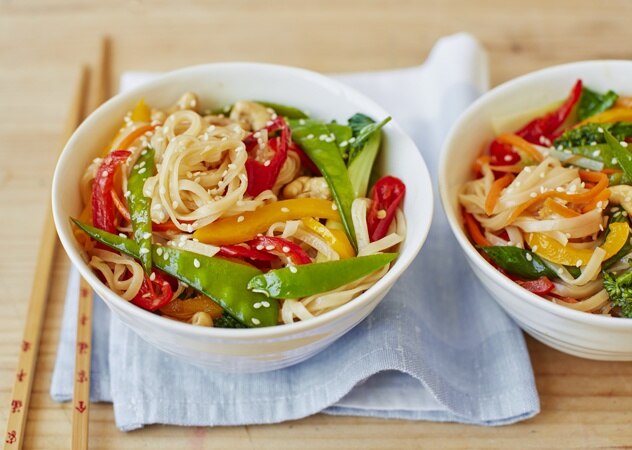 Preparation time 15 minutes
Cooking time 15 minutes
Serves 4
Ingredients
1 tbsp sesame oil
1 garlic clove, crushed
1 red chilli, sliced
1 red and 1 yellow pepper, sliced
80g Tenderstem broccoli
1 carrot, julienned
100g mange tout, halved
2 pak choi, sliced
200g rice noodles
100ml water
1 tbsp sesame seeds
50g cashew nuts, toasted
For the Teriyaki sauce:
6 tbsp gluten-free soy sauce (or tamari)
2-inch knob of ginger, grated
1 garlic clove, crushed
4 tbsp honey
4 tbsp mirin
1 tsp cornstarch
1 tbsp water
NUTRITIONAL INFO
Per 100g
Energy (kcal) 100
Protein (g) 2.3
Fat (g) 2.5
Sat Fat (g) 0.5
Carbs (g) 16
Sugar (g) 6.4
Fibre (g) 1.7
Salt (g) 0.7
Method
1. In a small saucepan, combine the teriyaki sauce ingredients except the cornstarch and water. Heat gently and mix well.
2. Mix the cornstarch and water in a small bowl until smooth. Add to the saucepan and whisk the sauce over the heat until thickened slightly. Remove from the heat and cool.
3. Soak the rice noodles in a large bowl. In a wok, heat the sesame oil and then add the garlic and chilli and fry until golden. Add in the pepper, broccoli, carrot, mange tout and pak choi and mix well. Cook for 2-3 minutes or until starting to soften.
4. Add the soaked and drained noodles and then pour over the teriyaki sauce. Mix everything together and cook on a high heat for 2-3 more minutes. Divide into 4 bowls and sprinkle with sesame seeds and cashew nuts.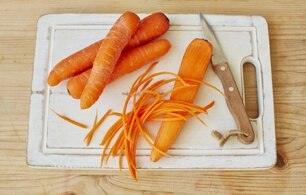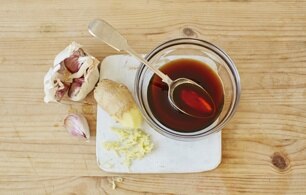 Takes 1 hour 5 minutes - Makes 9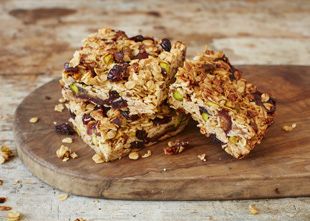 Takes 1 hour 10 minutes - Serves 4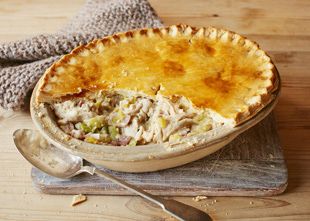 Preparation time 15 minutes
Cooking time 15 minutes
Serves 4
Ingredients
1 tbsp sesame oil
1 garlic clove, crushed
1 red chilli, sliced
1 red and 1 yellow pepper, sliced
80g Tenderstem broccoli
1 carrot, julienned
100g mange tout, halved
2 pak choi, sliced
200g rice noodles
100ml water
1 tbsp sesame seeds
50g cashew nuts, toasted
For the Teriyaki sauce:
6 tbsp gluten-free soy sauce (or tamari)
2-inch knob of ginger, grated
1 garlic clove, crushed
4 tbsp honey
4 tbsp mirin
1 tsp cornstarch
1 tbsp water
NUTRITIONAL INFO
Per 100g
Energy (kcal) 100
Protein (g) 2.3
Fat (g) 2.5
Sat Fat (g) 0.5
Carbs (g) 16
Sugar (g) 6.4
Fibre (g) 1.7
Salt (g) 0.7