Tofu and Shittake Mushroom Pad Thai
Pad thai doesn't have to involve chicken and prawns. Our tofu and mushroom version makes a delicious dish for veggies and meat-eaters alike.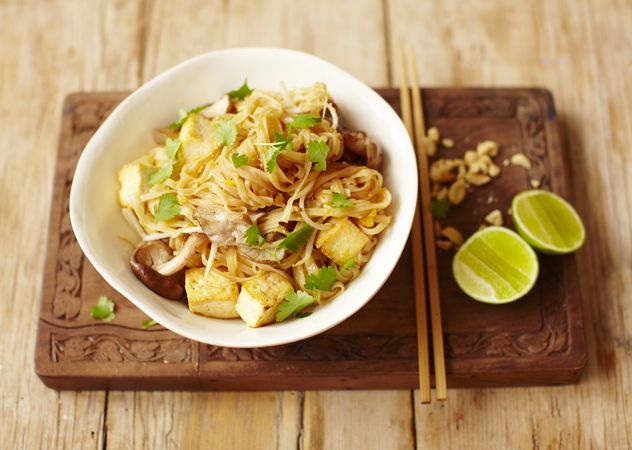 Preparation time: 20 minutes
Cooking time: 10 minutes
Serves 2
Ingredients
20ml light soy sauce
20ml dark soy sauce
60ml tamarind paste
60g palm sugar
2 tbsp groundnut oil
2 cloves of garlic, finely chopped
1 tsp chilli flakes
150g tofu, cubed
100g shiitake mushrooms
2 eggs, beaten
100g beansprouts
50g salted peanuts, roughly chopped
Lime wedges, chilli flakes, coriander and extra chopped peanuts to serve
Method
1. Soak the rice noodles in a bowl of cold water for 30 minutes to soften them slightly.
2. In a small pan, gently heat the soy sauces, tamarind and palm sugar until the sugar has dissolved and leave to cool slightly.
3. Heat a wok or deep frying pan and then add the groundnut oil. Add the garlic and chilli flakes and fry for 30 seconds and then add in the drained noodles and allow to cook together for a few minutes.
3. Now add in the tamarind mixture and stir quickly to combine. Fry for 2-3 minutes or until the noodles are soft.
4. Move the noodles to one side of the pan and add in the mushrooms whole and tofu cubes. Let these fry for a few minutes to colour.
5. Crack an egg over the tofu and mushrooms and stir around quickly so the egg scrambles and then quickly stir everything into the noodles.
6. Add in the bean sprouts and peanuts after another minute and then serve immediately with the lime wedges, chilli flakes, coriander and extra peanuts on the side.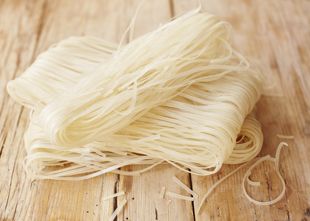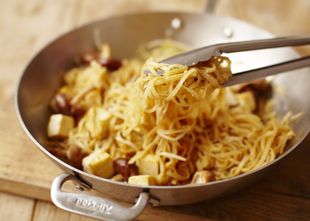 Takes 1 Hour 20 Minutes - Serves 6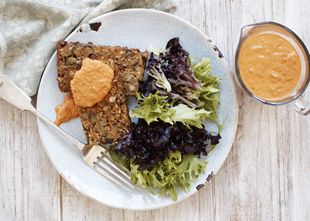 Takes 50 Minutes - Serves 4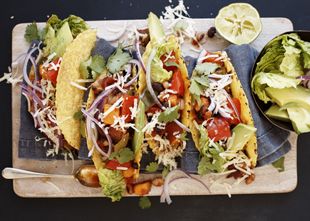 Preparation time: 20 minutes
Cooking time: 10 minutes
Serves 2
Ingredients
20ml light soy sauce
20ml dark soy sauce
60ml tamarind paste
60g palm sugar
2 tbsp groundnut oil
2 cloves of garlic, finely chopped
1 tsp chilli flakes
150g tofu, cubed
100g shiitake mushrooms
2 eggs, beaten
100g beansprouts
50g salted peanuts, roughly chopped
Lime wedges, chilli flakes, coriander and extra chopped peanuts to serve