Triple chocolate birthday cake
(with a boozy icing option for adults)
Everyone deserves to have this chocolate cake in their life – and everyone can! The surprisingly simple recipe uses dairy and gluten substitutes to fabulous effect. One slice may not be enough…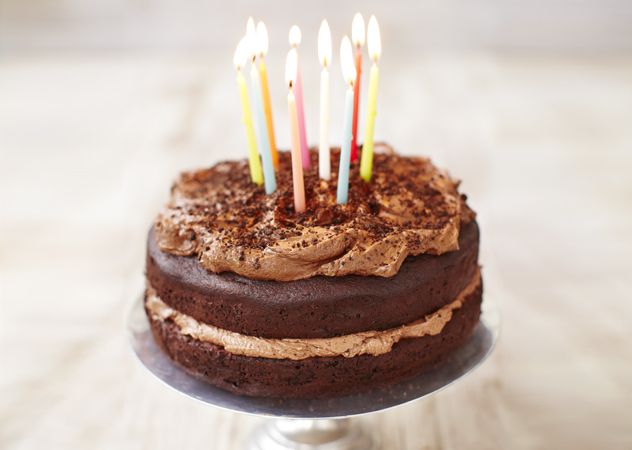 Preparation time: 30 minutes
Cooking time: 30 minutes - Serves 12
Vegetarian
Gluten free
Dairy free
Ingredients
75g dairy-free sunflower spread
60g dairy-free natural cacao powder
115g dark muscovado sugar
225g gluten-free white self-raising flour
1 1/2 tsp gluten-free baking powder
1/2 tsp gluten-free bicarbonate of soda
140g dairy-free sunflower spread
85g golden caster sugar
3 medium eggs, beaten
1 tsp vanilla extract
50g dairy-free chocolate, melted
50g gluten-free chocolate chips
3 gluten- and dairy-free Oreo-style cookies
For the icing:
50g dairy-free chocolate, broken into small
pieces
1 tbsp sweet alcohol such as dark rum, Grand Marnier or Baileys (optional)
100g dairy-free sunflower spread
75g icing sugar
25g dairy-free natural cacao powder
Method
1. Heat the oven to 180ºC/160ºC fan/gas mark 4. Grease and line the bases of 2 x 19cm springform cake tins with baking parchment. Put the cacao and muscovado sugar in a heatproof bowl and add 240ml boiling water, mix well and leave to cool.
2. Sift the flour, baking powder and bicarbonate into a bowl. In another bowl, cream the spread and caster sugar until light and fluffy, using an electric whisk. Gradually whisk in the beaten egg, and then beat in the vanilla, half the flour mixture and half the cacao mixture for 30 seconds. Repeat with the remaining flour and cacao.
3. Fold in the melted chocolate and chocolate chips then divide the mixture evenly between the cake tins and bake for 30 minutes until risen and springy. Cool in the tins for 5 minutes then transfer to a wire rack and leave to cool completely.
4. To make the icing, melt the chocolate. If you are including the alcohol, put this in with the broken pieces and melt it, then stir together – you can do this in 10-second bursts in the microwave or set in a bowl over a pan of simmering water. Put the spread, icing sugar and cacao in a bowl and beat using an electric whisk (you may want to start off mixing with a wooden spoon as it can get quite dusty!). Fold in the melted chocolate (and alcohol if using). Spread a third of this mixture over one cake half and sandwich with the other cake. Spread the rest of the icing over the top.
5. Blitz the cookies in a processor to make crumbs. Sprinkle over the top of the cake.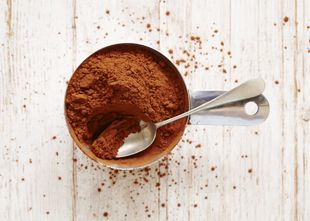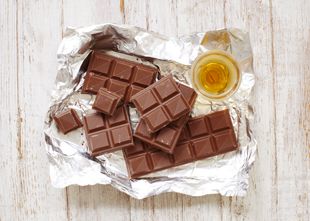 Takes 40-45 minutes - Makes 12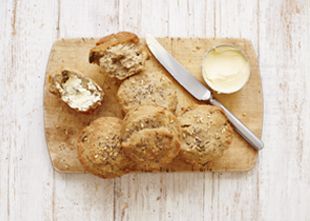 Takes about 1 hour minutes - Serves 4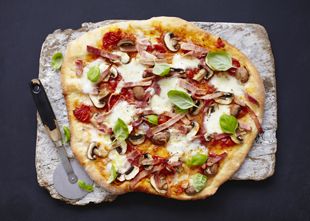 Preparation time: 30 minutes
Cooking time: 30 minutes - Serves 12
Vegetarian
Gluten free
Dairy free
Ingredients
75g dairy-free sunflower spread
60g dairy-free natural cacao powder
115g dark muscovado sugar
225g gluten free white self-raising flour
1½ tsp gluten-free baking powder
½ tsp gluten-free bicarbonate of soda
140g dairy-free sunflower spread
85g golden caster sugar
3 medium eggs, beaten
1 tsp vanilla extract
50g dairy-free chocolate, melted
50g gluten-free chocolate chips
3 gluten- and dairy-free Oreo-style cookies
For the icing:
50g dairy-free chocolate, broken into small
pieces
1 tbsp sweet alcohol such as dark rum, Grand Marnier or Baileys (optional)
100g dairy-free sunflower spread
75g icing sugar
25g dairy-free natural cacao powder