Wild mushroom nut roast
Go gourmet with some wild mushrooms and a delicious cheesy topping on this nut roast.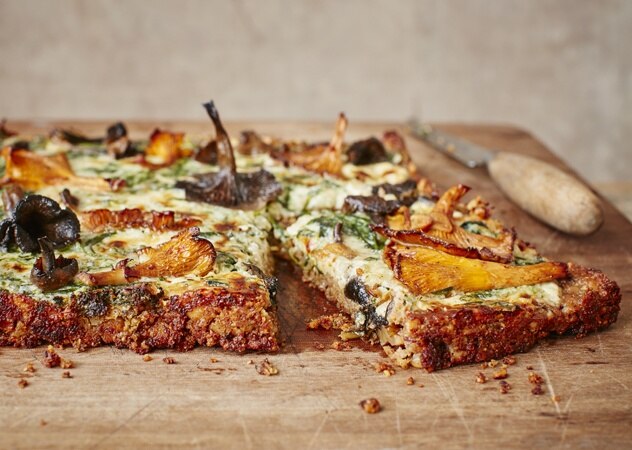 Preparation time: 20 minutes
Cooking time: 35 minutes
Serves 6
Ingredients
1 onion, finely diced
1 carrot, finely diced
1 celery stalk, finely diced
200g mixed nuts
100g chestnut purée
100g vegetable suet
50g self-raising flour
1 tbsp bouillon powder
For the topping:
100g spinach
75g parmesan
150g mascarpone
2-3 sage leaves, chopped
200g wild mushrooms, sliced if large
3 garlic cloves, crushed
Method
1. Heat the oven to 200ºC/180ºC fan/gas mark 6 and line a 30x20cm tin with greaseproof paper. In a large frying pan, heat a little oil and fry the onion, carrot and celery with seasoning until softened.

2. Blitz the mixed nuts in a food processor. Add in the softened vegetables, chestnut purée and bouillon powder with plenty of seasoning and blitz until nearly smooth. Add in the suet and flour and blitz again just to combine.

3. Spread this mixture into the prepared tin and bake in the oven for 15 minutes or until golden. Remove from the oven and allow to cool a little.

4. Meanwhile, wilt down the spinach in a pan over a low heat with a small splash of water. Allow to cool and drain, squeezing out as much liquid as possible through a cloth or kitchen paper. Mix together the parmesan, mascarpone and sage with plenty of seasoning.

5. Fry the crushed garlic in a little oil until softened and then add in the mushrooms. Cook over a medium heat to evaporate any excess liquid, but be careful not to burn the garlic. Once they have softened slightly, leave to cool.

6. Mix the cooled spinach with the cheese mixture and spread over the top of the cooled nut base. Top with the mushrooms, making sure to get rid of any excess liquid.

7. Return to the oven and bake for another 15 minutes at the top of the oven until the cheese and mushrooms are golden. Serve immediately in slices.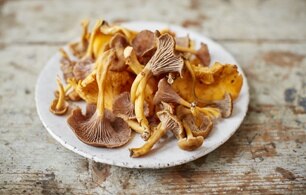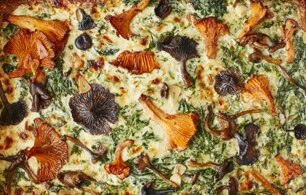 Takes 45 minutes - Serves 6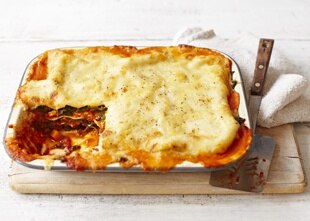 Takes 1 hour 20 minutes - Serves 4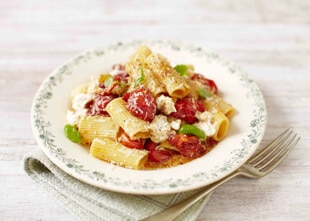 Preparation time: 20 minutes
Cooking time: 35 minutes
Serves 6
Ingredients
1 onion, finely diced
1 carrot, finely diced
1 celery stalk, finely diced
200g mixed nuts
100g chestnut purée
100g vegetable suet
50g self-raising flour
1 tbsp bouillon powder
For the topping:
100g spinach
75g parmesan
150g mascarpone
2-3 sage leaves, chopped
200g wild mushrooms, sliced if large
3 garlic cloves, crushed