H&B CBD Muscle Balm Ultra 100ml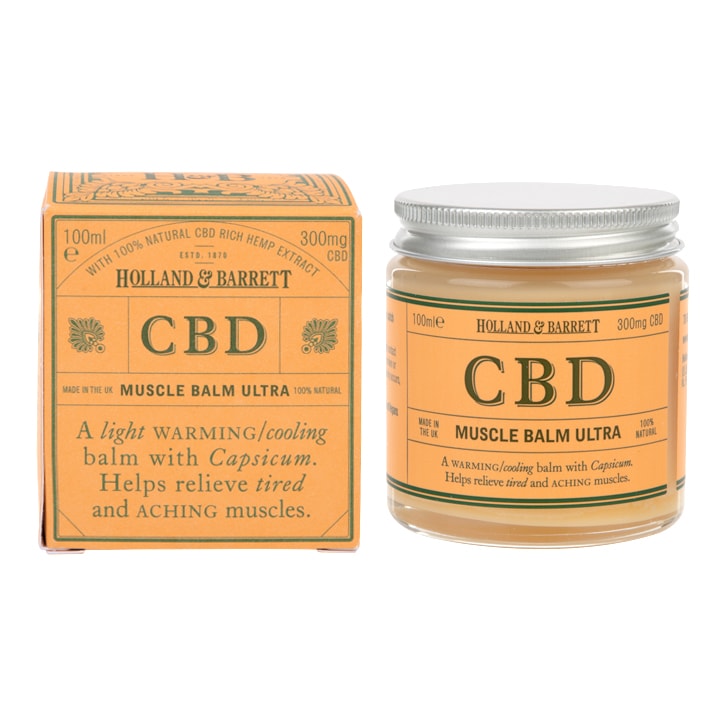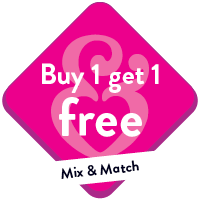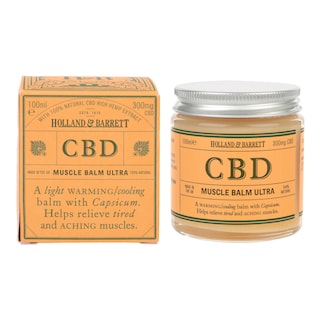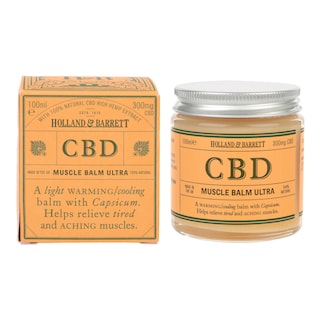 H&B CBD Muscle Balm Ultra 100ml
Benefits
Made from 100% natural CBD rich hemp extract
Enriched with capsicum extract
Non-greasy and 100% natural
Sore, tired muscles? Maybe you have pushed yourself that bit too hard at the gym or in the pool. Perhaps you have pulled or strained something. Or maybe you have just had a really hard day at work and your body wants you to know all about it.
We are all prone to stiff muscles and soreness from time to time and not all of us have the spare time to spend at the spa or can afford to treat ourselves to a relaxing massage.
The next best thing to a good pummelling on a massage bed, Holland & Barrett CBD Muscle Balm Ultra contains a soothing blend of 100% natural ingredients picked for their calming, relaxing properties.
Enriched with CBD, this muscle recovery balm does not just relax, it nourishes the skin at the same time, aids circulation in affected areas and provides the ideal basis for a localised self-massage, helping to loosen muscles and ease aches.
This product is not intended for use by persons under the age of 18.
What is CBD?
One of many active compounds found in the cannabis plant, CBD is the non-psychoactive substance found in oils, creams and vape liquids.;
It is also often used in gummies or pills, allowing you to choose a CBD product based on preference, potency and use.
Unlike THC, the psychoactive compound in cannabis, using CBD products will not result in a high.
Benefits of CBD balm
Because it is a relatively new product to the market, research into CBD effects and CBD benefits are limited. However many people love CBD for its soothing qualities.
With its warming and cooling effect, Holland & Barrett Muscle Balm Ultra can help to induce that feeling of calm and wellness you experience during a massage while also nourishing and soothing the skin naturally.
Meanwhile the pleasantly herbal scent of this balm may also create a sense of ease, helping you to relax and unwind.
A balm like Muscle Balm Ultra is also an easy way to enjoy the benefits of CBD, for those who struggle with the taste of oils or find other forms a little too strong.
How do I get the most out of CBD Muscle Balm Ultra?
While you may be tempted to quickly rub this balm into a sore shoulder or calf, the most benefits are gained by taking your time to wind down. This is especially true where tired and aching muscles are the result of a stressful event.
Take a long bath or shower before applying your balm, beginning the process of relaxing with the restorative powers of hot water in a quiet room.
You may even choose to open the balm in the bathroom while you bathe, letting the soothing aroma surround you.
Once you are dry, applying just a little balm, warmed in your hands to let it melt, will create a warming sensation in the affected area.
Massage as firmly as you like, using circular motions to ease stiffness and discomfort, adding just a little more balm as it begins to soak into the skin.
Full ingredients
Caprylic/Capric Triglyceride, Helianthus Annuus (Sunflower) Seed Wax, Gaultheria Procumbens (Wintergreen) Leaf Oil, Jojoba Esters, Acacia Decurrens Flower Wax Polyglycerin-3, Menthol, Copernicia Cerifera (Carnauba) Wax, Tocopherol (Vitamin E), Eucalyptus Globulus (Eucalyptus) Leaf Oil, Mentha Piperita (Peppermint) Leaf Oil, Cannabis Sativa (Hemp) Extract, Cannabidiol, Capsicum Frutescens (Capsicum) Fruit Extract Limonene *Occurs naturally in essential oils.
Always read the label before use
Advisory Information:
Suitable for vegetarians and vegans, 100% natural.
Remember to:
We go to great efforts to ensure that the information on this page is accurate at the time that the page was last edited. As we are constantly reviewing and developing our products to meet our consumer needs, consumers, particularly those that suffer from allergies and intolerances, should always check product labelling, warnings, and directions provided with the product that is delivered, prior to use or consumption.
Directions:
Please test on a small area of your arm before use on a larger area. Apply a small amount on to your fingers and massage onto affected areas. Massage the product deeply adding more if required. Retain Packaging for future reference.

Vegetarian

Vegan
Key Ingredients
CBD Oil
Derived from the hemp plant, CBD oil interacts with the human endocannabinoid system. Available in a variety of forms, this oil can reduce the appearance of wrinkles and help soothe aches and pains.
How to Use
Step 1
Test this light CBD balm on a small area of your arm, before use on a larger area of your body
Step 2
Apply a small amount of balm to your fingers, before massaging onto affected areas
Step 3
Massage the product deeply, adding more if required. The gently warming formulation can aid circulation to help your muscles relax