Nature's Way Alive! Womens Energy 60 Gummies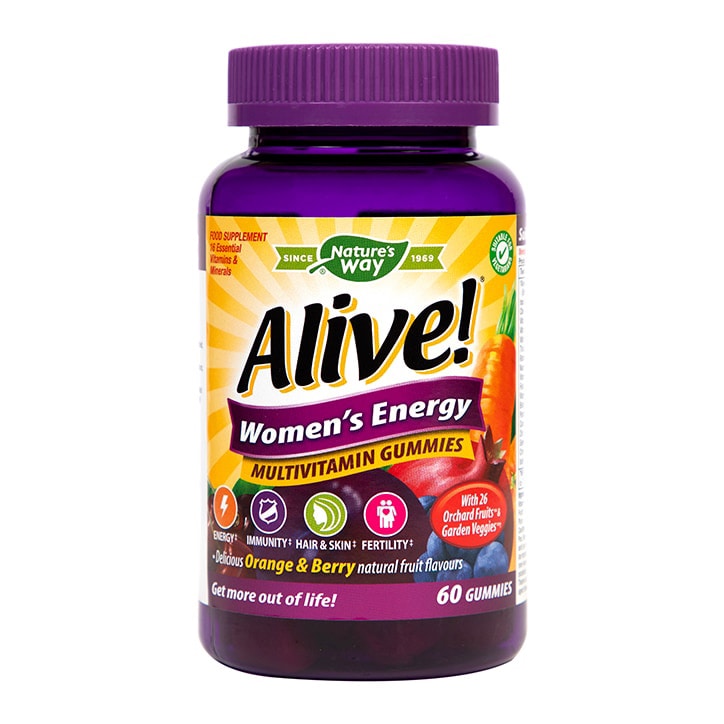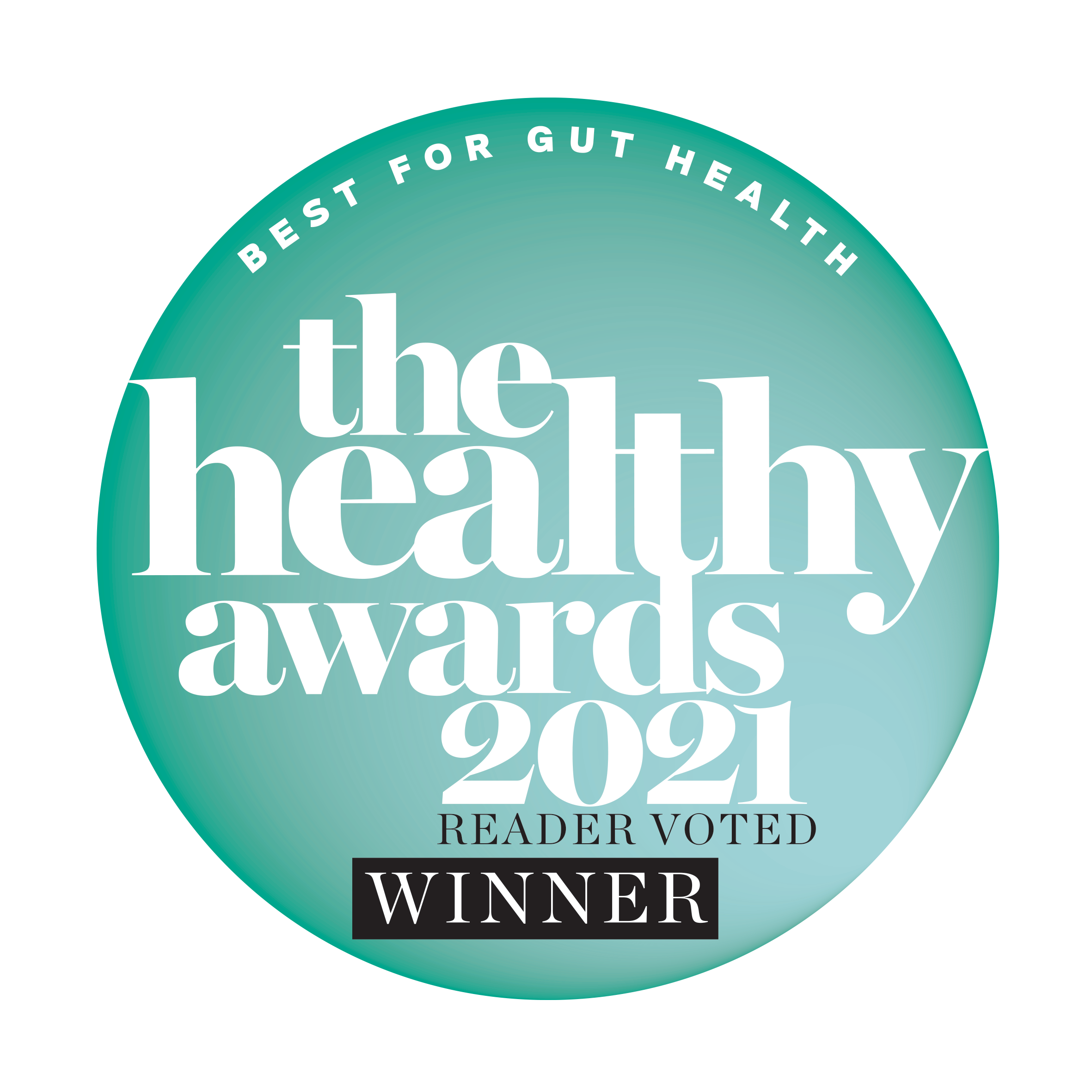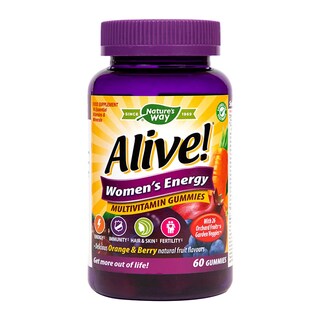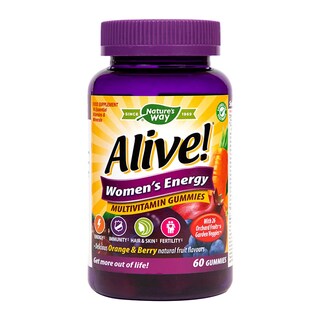 Nature's Way Alive! Womens Energy 60 Gummies
Benefits
Contributes to normal energy release
Combined with vitamins C, B6, B12, D and zinc
Suitable for vegetarians
Multi-vitamin specially formulated for women needing a boost in energy levels
Vitamins C, B6, B12, D and Biotin for normal hormonal activity & maintenance of normal bones
Contributes to normal energy release
We all want to feel alive and these Alive! Women's Energy Gummies from Nature's Way are a great way get that boost.
They are a complete multivitamin which supports the female body by providing the essential vitamins that it needs to feel great and work at its best.
The 2020 Healthy Awards winner works to benefit women's energy, immunity, hair, skin and fertility.
Containing vitamins C, B6, B12, biotin, zinc and vitamin D, these multivitamin gummies have been specially balanced for women's bodies.
While vitamin D works to maintain normal bones, the other vitamins combine to promote an energy-yielding metabolism to give you vitality and health. Biotin is well known for supporting the health of normal hair and skin.
It is believed that zinc can support normal fertility and the reproductive system as a whole, whilst iodine is thought to assist in normal thyroid function and hormone production.
This essential multivitamin is made from a dried blend of 26 orchard fruits and garden vegetables, and it comes in a mixture of delicious natural orange and berry flavours to make them an absolute delight to take.
They are suitable for vegetarians, and just two gummies need to be chewed each day.
Full ingredients
Dried cane syrup, Tapioca syrup, Calcium (as tricalcium phosphate), Pectin, Biotin, Vitamin E (as dl-alpha tocopheryl acetate), Vitamin C (ascorbic acid), Acid: Citric acid, Alive! Orchard Fruits™ and Alive! Garden Veggies™ whole fruits and vegetable powders: (Orange, Blueberry, Carrot, Plum, Pomegranate, Strawberry, Pear, Apple, Beetroot, Raspberry, Pineapple, Pumpkin, Cherry, Cauliflower, Grape, Banana, Tomato, Cabbage, Açaí, Asparagus, Brussels Sprout, Cranberry, Cucumber, Pea, Broccoli, Spinach), Fruit and vegetable concentrates, Acidity Regulator: Sodium citrate, Pantothenic acid (as calcium d-pantothenate), Iodine (as potassium iodide), Natural raspberry flavouring, Vitamin D2 (as ergocalciferol), Natural orange flavouring, Zinc (as zinc citrate), Riboflavin, Fractionated coconut oil (non-hydrogenated), Natural flavouring, Choline (as choline bitartrate), Chromium (as chromium picolinate), Folic acid, Inositol, Niacin (as niacinamide), Riboflavin, Selenium (as sodium selenate), Thiamin (as thiamine HCl), Vitamin B6 (as pyridoxine HCl), Vitamin B12 (as cyanocobalamin), Glazing agent: Beeswax, Anti-caking agent: Silicon Dioxide
Always read the label before use
Two gummies provide:
Fruit/Vegetable powders and botanicals blend
75mg
Inositol
40µg
Choline
60µg
Vitamin D
20µg
Vitamin E
12mg
Vitamin C
60mg
Thiamin (Vitamin B1)
0.38mg
Riboflavin (Vitamin B2)
0.43mg
Niacin (Vitamin B3)
5mg
Vitamin B6
3mg
Folic Acid
400µg
Vitamin B12
10µg
Biotin
375µg
Pantothenic acid (Vitamin B5)
3mg
Calcium
120mg
Zinc
3mg
Selenium
16.5µg
Chromium
60µg
Iodine
150µg
Directions:
Women chew 2 gummies daily. Not formulated for men or children.
Advisory information:
If you are pregnant, nursing, or taking any medications, consult a healthcare professional before use.
Keep out of the reach of children. Safety sealed for your protection. Do not use if safety seal under child resistant bottle cap is broken or missing. Store at room temperature. Keep bottle tightly closed. Avoid excessive heat and direct sunlight.
Remember to:
We go to great efforts to ensure that the information on this page is accurate at the time that the page was last edited. As we are constantly reviewing and developing our products to meet our consumer needs, consumers, particularly those that suffer from allergies and intolerances, should always check product labelling, warnings, and directions provided with the product that is delivered, prior to use or consumption.

Vegetarian

Pescatarian
FAQs
Are Nature's Way Alive vitamins good for you?
Nature's Way Alive! Womens Energy 60 Gummies is a great multivitamin for women, which is specially formulated for those who feel like they have low levels of energy.
It contains a blend of women's vitamins, including vitamin C, vitamin B6, vitamin B12, biotin and vitamin D.
This supplement for women contributes to the normal release of energy within the body, as well as normal hormonal activity and the maintenance of normal bones.
In addition to these daily vitamins for women, the supplement contains a unique dried blend of 26 fruits and vegetables.
They have a delicious natural fruit flavour and a gummy texture, which means that taking them is not a chore!
Was this answer helpful?
What are the best vitamins for women?
Women can sometimes miss out on essential vitamins and so taking a daily women's multivitamin supplement is a good way to ensure that you are getting everything your body needs for day-to-day health.
Some of the best vitamins for women include vitamin C, which is important for the normal functioning of the immune system; vitamin B6 which supports the normal regulation of hormonal activity; and vitamin B12 which helps to support the normal production of red blood cells.
These are all good vitamins for women to take on a regular basis.
Was this answer helpful?
How much vitamin D do women need per day?
According to the NHS, adult women need 10 micrograms of vitamin D per day.
The main source of vitamin D is through sunlight on your skin. This means that it can sometimes be difficult to achieve, particularly if you do not spend much time outdoors or if you live in a climate where there is not year round sunshine.
It is therefore suggested that you should take a supplement containing vitamin D all year round.
Was this answer helpful?
How should you take Nature's Way Alive vitamins?
You should chew two of the Nature's Way Alive! Womens Energy 60 Gummies per day and make sure you keep them all to yourself – they are not formulated for men or children.
It is super easy to pop the packet in your bag and take it with you on the go.
And because they have a chewy, gummy texture and a delicious flavour, they are similar to sweets. They are also great for anyone who otherwise finds swallowing multivitamin tablets for women difficult.
Was this answer helpful?
Are Nature's Way Alive vitamins suitable for vegetarians?
Yes, Nature's Way Alive! Womens Energy 60 Gummies are suitable for anyone who is following a vegetarian diet.
Was this answer helpful?
Part of the family of B vitamins, biotin, or vitamin H or B7 as it is sometimes known, is a water-soluble vitamin that supports the body in converting nutrients into energy.
It is found in a number of foods, both animal foods and plant-based.
Was this answer helpful?
Biotin has a number of functions within the body. It helps to support the body's normal energy-yielding metabolism as well as contributing to macronutrient metabolism, where it helps the body to convert carbohydrates into glucose.
It also helps to support normal hair and skin health.
Was this answer helpful?
Can you take Nature's Way Alive vitamins for women while pregnant?
If you are pregnant or breast feeding, then you should make sure that you consult with a medical professional before starting a course of Nature's Way Alive! Womens Energy 60 Gummies or, indeed, any other supplement.
If you are taking any other medication or if you are under medical supervision, then you should also ask your GP before taking a dietary supplement.
Was this answer helpful?
Key Ingredients
Vitamin C
An essential nutrient, vitamin C, or ascorbic acid, is commonly found in fruit and vegetables. Supports the immune system and helps reduce tiredness and fatigue.
Vitamin B12
Found naturally in meat and dairy products, vitamin B12 supports a healthy nervous system and good physiological function. Used in the production of red blood cells, a B12 deficiency can cause fatigue and weakness.
Vitamin B6
Water soluble vitamin B6, also called pyridoxine, is required by the body for numerous functions. Involved in protein metabolism and normal functioning of the nervous sytem.