This one is out of stock, see these alternatives
Vitaskin Vitamin C Collagen Boosting Serum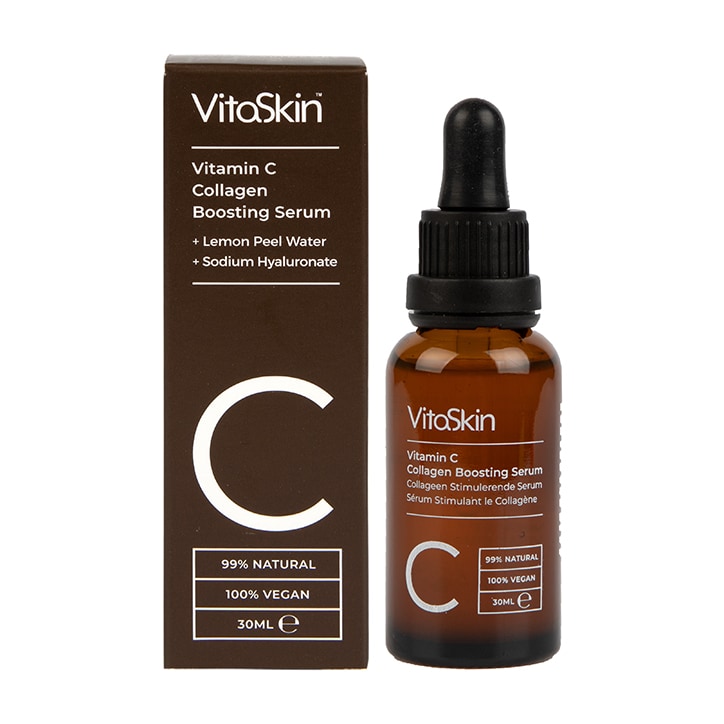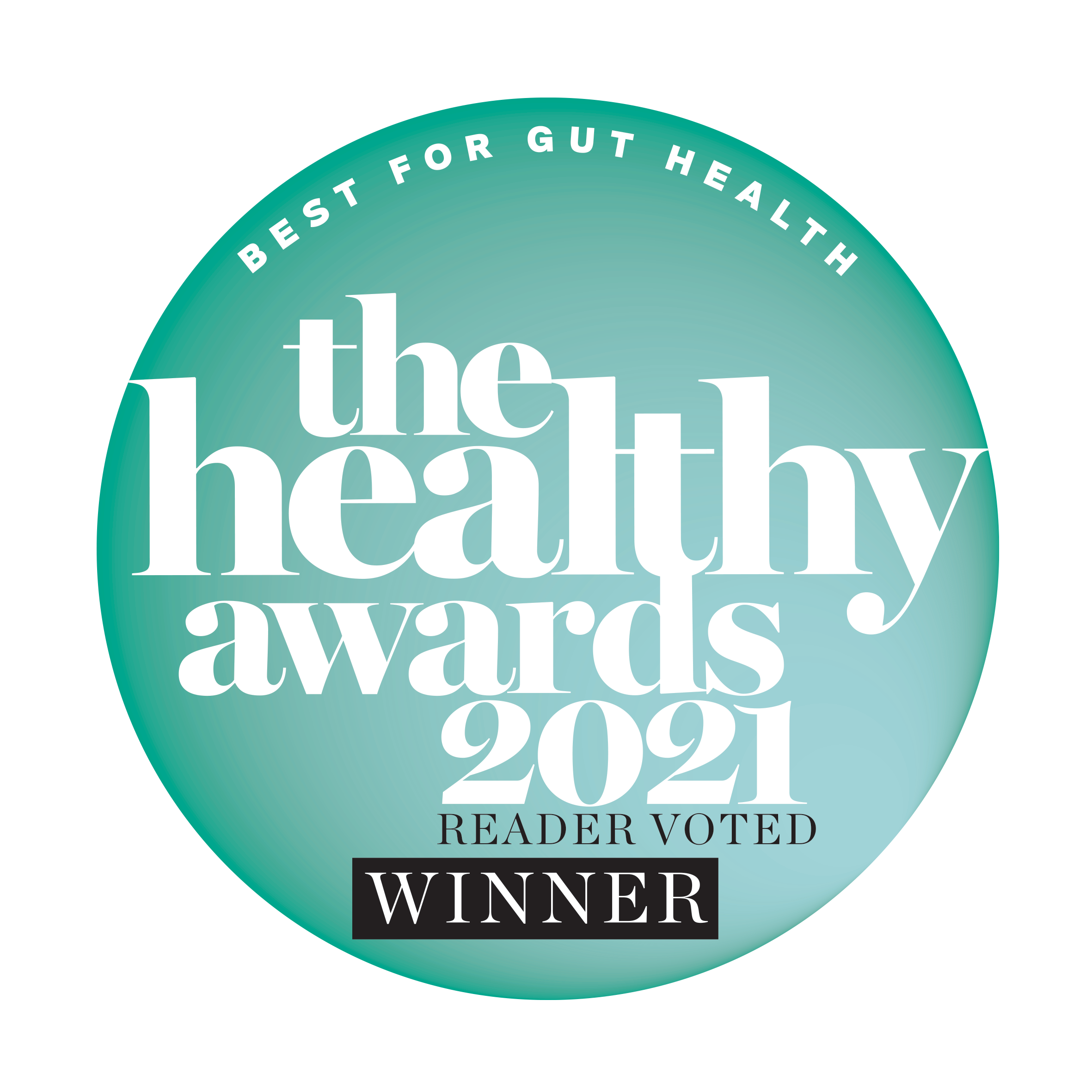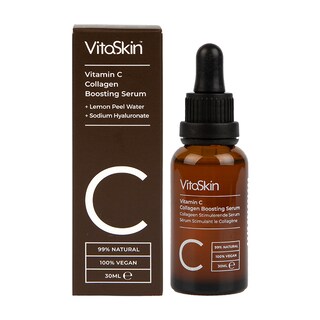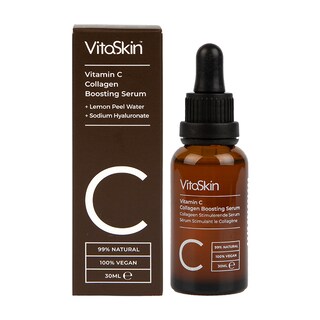 Vitaskin Vitamin C Collagen Boosting Serum
Benefits
100% vegan serum
Contains active ingredients designed to visibly plump your skin
Most of us know that healthy vitamin C, also known as ascorbic acid, can help us to feel better from the inside. But did you know that this wonder vit can support suppler, smoother skin too?
Not just for keeping coughs and colds away, vitamin C is an increasingly popular skin care ingredient, appearing on the ingredient lists of the creams, oils and serums lining every good skin care aisle.
Full of helpful antioxidants and with a range of active ingredients to help create a plumping appearance, this Vitaskin vitamin C serum for face can help to reduce the appearance of fine lines and wrinkles, leaving you with softer feeling, more youthful looking skin.
Completely vegan and containing 99% natural ingredients, this luxuriant facial serum is a pleasure to use.
And unlike many other modern facial serums, it is totally free of complicated and harsh chemicals, so it is an ideal choice for skin that tends towards sensitivity.
Why choose a vitamin C serum for skin?
With so many serums to choose from, many of them promising transformative results, why plump for fuss-free, unglamorous ascorbic acid for skin? The answer is simple: collagen.
The decline in our skin's appearance is in no small part down to a reduced supply of collagen.
Produced by our bodies, our collagen supplies (and their quality too) begin to naturally decline from our mid-20s onwards.
Once this happens our skin starts to lose its elasticity, leading to sagging and the development of fine lines and, eventually, wrinkles.
Vitamin C is thought to be firmly connected to collagen production. Applying a vit C serum for face may help to support collagen production, producing a tightening effect and helping to reduce the visible signs of damage caused by sun exposure, pollution and smoking.
Vitamin C skin care products may also help to reduce redness and aid the appearance of a more even skin tone, particularly in sun damaged skin that's prone to brown spots.
Though research into vitamin C for skin is limited, many people find that adding it to their routine helps to smooth, moisturise and nourish, reducing the visible appearance of aging fine lines and even deeper wrinkles and helping skin to feel smoother and tighter.
What else does this serum have to offer?
More than just a one trick pony, this Vitaskin vitamin C serum for skin, contains a variety of carefully selected ingredients, including kiwi and sweet orange oils, both rich in vitamin C and sea buckthorn, high in omega 3 oils.
Aside from their powerful and well-studied health benefits, omega 3 oils are also increasingly thought to aid skin's appearance, helping to improve both the look and feel of spot prone skin while supporting a reduction in redness and irritation.
How to use Vitaskin vitamin C products
Highly moisturising, this nourishing serum is one of a range of great Vitaskin vit C products, with rich night creams, light eye creams and exfoliators also available.
Used alone, simply dabbed onto the skin morning or evening, Vitaskin Vitamin C Collagen Boosting Serum can be used instead of a moisturiser but is best applied after cleansing and toning but before moisturising.
Full ingredients
Aqua, Citrus Limon (Lemon Peel Water), Propanediol, Sodium Hyaluronate, Sodium Ascorbyl Phosphate, Citric Acid, Sodium Benzoate, Potassium Sorbate, CI 40800.
Always read the label before use
Directions:
Apply to clean skin. For best results combine with the full Vitaskin Vitamin C range.
Suitable for:
Vegans
Advisory information:
For External Use only. Avoid contact with eyes. Discontinue use if sensitivity occurs.
Remember to:
We go to great efforts to ensure that the information on this page is accurate at the time that the page was last edited. As we are constantly reviewing and developing our products to meet our consumer needs, consumers, particularly those that suffer from allergies and intolerances, should always check product labelling, warnings, and directions provided with the product that is delivered, prior to use or consumption.

Paraben Free

SLS Free

Vegan
FAQs
Vitamin C serum is a skincare product, which is packed full of the essential nutrient, vitamin C, which is also known as L-ascorbic acid.
This serum is applied topically to the skin and has a liquid or gel-like consistency. It is a lightweight product, which is lighter in consistency than a moisturiser.
Vitamin C skincare products harness the antioxidant power of vitamin C, to provide plentiful benefits for the skin. Vitamin C products have become popular within the skincare industry within recent years.
Although you may be getting enough vitamin C through your diet and from taking supplements, it may not show in your skin.
Applying vitamin C topically is an effective way to ensure that your skin gets these benefits directly.
Was this answer helpful?
How should I use vitamin C serum?
Cleanse your skin as usual and be sure to dry it completely. Apply a couple of drops of the serum and then massage in fully.
You should add a vitamin C serum for the face to your skincare routine, after cleansing and before your moisturiser and SPF sun care.
Before using a vitamin C serum, you should always carry out a patch test to ensure that you are not sensitive to it.
Was this answer helpful?
What does vitamin C serum do?
A vit C serum for the face is a great addition to your skincare shelf, thanks to the healthy ageing and antioxidant properties of ascorbic acid for skin.
Vitaskin Vitamin C Collagen Boosting Serum contains a range of active ingredients which are specially formulated to keep skin looking plump and help to reduce the appearance of fine lines and wrinkles.
It also contains omega oils from a blend of kiwi, sea buckthorn and sweet orange oils. These help to hydrate the skin and give you a gorgeous glow.
Vitamin C for skin can help to support the normal production of collagen in the skin.
Collagen occurs naturally in the skin but it start to deplete once you age and these lower levels can lead to fine lines and wrinkles, as well as other signs of ageing such as less firm skin.
Using a topical skincare product containing vitamin C can help to support your collagen levels, reducing the appearance of ageing and keeping skin looking firm and supple.
Was this answer helpful?
When should I use vitamin C serum?
You should use a vitamin C serum for skin in the morning, as part of your daily skincare routine.
Apply after cleansing and before you apply your moisturiser, SPF sun care products and your make-up.
For the best results, you should use Vitaskin Vitamin C Collagen Boosting Serum alongside the full Vitaskin Vitamin C range.
Was this answer helpful?
Is vitamin C serum suitable for vegans?
Yes, Vitaskin Vitamin C Collagen Boosting Serum is suitable for use for both vegans and vegetarians as it does not contain any ingredients which come from animals.
This means that you can enjoy the benefits of this vitamin C serum completely guilt free.
Was this answer helpful?
Key Ingredients
Vitamin C
An essential nutrient, vitamin C, or ascorbic acid, is commonly found in fruit and vegetables. Supports the immune system and helps reduce tiredness and fatigue.
How to Use
Step 1
For External Use only. Avoid contact with eyes. Discontinue use if sensitivity occurs