Christine Bailey - Nutritionist Published: 19-05-15 Whether you have coeliac disease, gluten sensitivity or simply wish to follow a gluten free diet, it's important to make sure your diet provides all the essential nutrients your body needs.
  Here, Nutritionist and Free From food expert, Christine Bailey, offers her advice on how you can make sure your gluten free diet is both healthy and nourishing.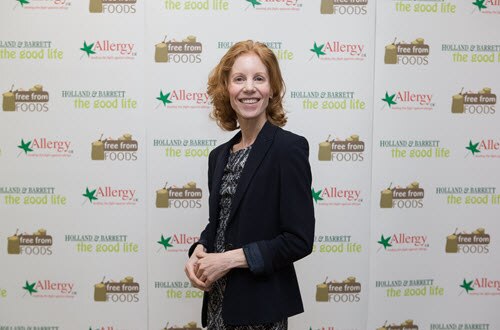 WHAT DOES A GLUTEN FREE DIET INVOLVE?
A
gluten free diet
involves the complete avoidance of all foods made from or containing wheat, rye and barley. In addition regular oats are typically contaminated with gluten and are therefore not suitable. Certified gluten free oats are readily available but if you are a newly diagnosed coeliac it is recommended you avoid gluten free oats for at least six months and only consider introducing them following the advice of your health care practitioner. This is because some people with coeliac disease are not able to tolerate gluten free oats.
GO FREE FROM
Scouring food labels can leave you thinking you need a science degree to understand them, but there are easier ways to avoid dairy products. First, consider "free-from" products – items specially designed with your allergy or intolerance in mind. Companies that create these items have done the hard work for you and worked on producing something that is as nutritious and tasty as it's milky equivalent. You'll find milk made from soy, oats, nuts and rice as well as cake and bread mixes, cooking pastes and condiments, biscuits and snacks to stock your store cupboards with.
WHAT SHOULD YOU CONSIDER WHEN REMOVING GLUTEN FROM YOUR DIET?
Removing gluten grains from your diet could potentially mean you may miss out of certain nutrients.   Wheat, barley and rye, especially in their unprocessed form, are all rich in vitamins and minerals including B vitamins, zinc, magnesium, manganese, copper and selenium. They also provide plenty of fibre, which is particularly relevant if you have recently been diagnosed with coeliac disease.   As gluten damages the villi in the small intestine, which are vital for proper digestion and absorption of food, a result number of nutritional deficiencies are common. As you switch to a gluten free diet and your gut lining begins to heal, absorption of nutrients from food improves. Key nutrients that have been shown to be low in newly diagnosed coeliacs include folic acid, vitamin B12, vitamin E, selenium, iron, calcium and vitamin D.
How can you boost your nutrition when eating a gluten free diet?
INCREASE YOUR IRON INTAKE:
Iron deficiency anaemia is common following a diagnosis of coeliac disease. For this reason your doctor may prescribe an iron supplement for you while your digestive system starts to heal.   It is also worth ensuring your daily diet contains a range of iron rich foods. Good sources include chickpeas, lentils, sesame seeds, spinach, Swiss chard, kale, broccoli, asparagus, beef, lamb, liver, tofu, olives, mussels & oysters, blackstrap molasses, quinoa, dried figs and apricots.   Avoid drinking tea, coffee and dark alcoholic drinks (e.g. beer, red wine) with meals, as these contain natural compounds called phenols which can inhibit the absorption of iron. Alsoinclude foods rich in vitamin C (e.g. red pepper, leafy greens, fresh fruit etc.) with your meal as this aids iron absorption; this is particualy important for vegetarians and vegans
BOOST YOUR CALCIUM COUNT:
Bone disorders are also more common in people with coeliac disease. This is partly linked to an increase in malabsorption (failure to fully absorb nutrients from the gastrointestinal tract) of bone-building nutrients. Damage to the small intestine can affect, in particular, vitamin D and calcium absorption but may also influence other fat soluble nutrients such as vitamin K involved in bone health.   Remember for healthy bones your body needs a wide range of nutrients in addition to calcium including vitamin D, magnesium, vitamin K, boron, silicon, vitamin C, zinc and protein. Many of these nutrients are abundant in gluten free grains like wholegrain rice, buckwheat and quinoa as well as leafy green vegetables, nuts and seeds.   The best source of vitamin D is sunlight, although you can find some in oily fish, full fat milk and milk alternatives, egg yolks and mushrooms.
CALCIUM ALTERNATIVES:
If you avoid dairy there are many good calcium rich alternatives. The recommended daily intake of calcium for adults is 700mg; however, due to an increased risk of bone disorders, those with coeliac disease should ingest at least 1000mg per day. You can obtain this through a range of non-dairy foods. Each of the below will provide you with about 250mg of calcium so aim for at least 4 portions daily.
A glass of calcium enriched soya milk, rice milk or almond milk (200ml)
One small pot of fortified soya yoghurt (150g)
Four small sardines, canned with bones (60g)
Small piece of plain tofu (50g)
2 slices of gluten free bread or regular bread
60g Tahini (sesame seed paste)
  Other good sources of calcium include dried figs, broccoli, spinach, kale, baked beans, kidney beans, sesame seeds and oranges.   Some studies suggest that changes can occur in the type and number of friendly bacteria present in the digestive system following a gluten free diet. Beneficial bacteria play an important role in supporting digestion, the production of certain vitamins and maintaining a healthy immune system.   Fermented foods such as raw sauerkraut, kimchi, kefir, kombucha and yogurt all provide friendly bacteria so try and include these regularly. If you are dairy intolerant you could try coconut kefir or coconut yogurt too.
THE BENEFITS OF FREE FROM GLUTEN FOOD SHOPPING
One of the benefits of following a gluten free diet is that it encourages you to rethink your eating and shopping habits. The easiest way to ensure your diet supplies all the nutrients you need is to focus your meals on natural whole foods. Fruits, vegetables, meats, poultry, seafood, dairy, eggs, beans and pulses for example are not only nutritious but naturally gluten free.   For each meal focus on including a palm size portion of protein such as meat, fish, eggs, beans or pulses with a wide selection of colourful vegetables and either some starchy vegetables (e.g butternut squash, carrot, beetroot, sweet potato) or a little unprocessed gluten free grain.   The great news is that many naturally gluten free grains are incredibly nutritious. Quinoa, amaranth, buckwheat, teff, millet and wholegrain rice for example are all rich in essential vitamins, minerals and fibre.   Avoid the temptation to over consume processed gluten free products, which can be higher in sugars and lower in nutrients including fibre. They also have a higher glycemic index. This means they are broken down quickly in the body, which can lead to blood sugar imbalances and fluctuating energy levels. Being higher in sugars they can also contribute to weight gain.   If you do fancy a gluten free treat why not make your own using gluten free flours, sweetened with a healthier sugar alternative such as xylitol and add some ground flaxseed or nuts and seeds for additional fibre. Some alternative flours such as almond flour are also rich in protein making them particularly satisfying.
DON'T FORGET YOUR FIBRE
Remember to shop for your fibre too. If you notice you are more prone to constipation increase your range of fibre rich foods. Good choices include plenty of vegetables particularly leafy green vegetables, beans and pulses, quinoa, whole grain rice, rice bran, buckwheat, flaxseed and chia seeds.   If you are concerned about the nutritional sufficiency of your diet it is recommended to speak with your health care practitioner for specific advice. Shop our
Food & Drink
range.