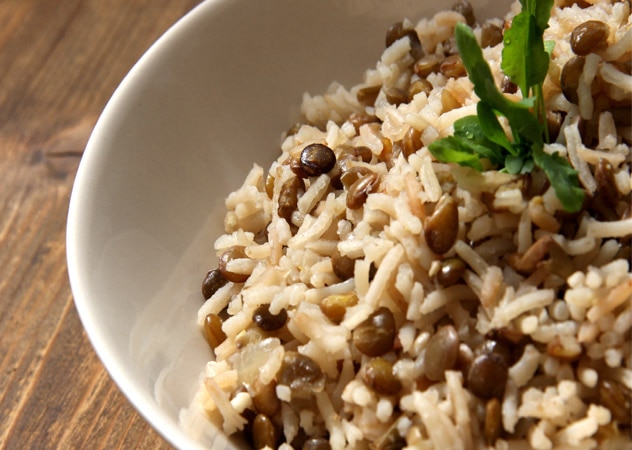 What's the buzz?
Gluten-free
and a good source of veggie protein, Kitchari is a nourishing Indian dish made with rice and beans. It has been renowned for thousands of years for its cleansing and digestive properties. Today, kitchari is experiencing something of a revival thanks to our increased appetite for plant-based meals.
What are the nutritional benefits?
For those following a
vegan
or vegetarian diet kitchari provides the perfect combination of proteins. While fish, meat and eggs contain all 10 essential amino acids, most plant foods need to be combined to make a 'complete protein'. While rice is high in the essential amino acids methionine, tryptophan and cysteine; legumes are rich in lysine – making rice and beans the ideal mixture.
RECIPES:
Brown Rice Kale Kitchari
(serves 6) Gluten-free; vegan; egg-free; dairy-free 1 tbsp of
coconut oil
2 tsp of
fennel seeds
1 tbsp of grated
turmeric
(or powdered turmeric) 200g
brown rice
200g split mung beans – soaked overnight and rinsed well 1.25 litres water 150g diced carrots 3 stalks of kale (chopped and fibrous stalk removed) To serve: Sprinkle of coriander
Heat the coconut oil in a saucepan over a medium heat. Add the fennel seeds and turmeric. Stir for 2 mins then add the rice and beans and combine well.
When the rice starts to stick to the saucepan add the water. Cover and bring to the boil then simmer on a medium heat for 20 mins.
Add the diced carrot and cook for another 15 mins before adding the kale for a final 5 mins. Serve with coriander.
Sweet Potato Kitchari
(serves 6) Gluten-free; vegan; egg-free; dairy-free 1 tbsp
coconut oil
1 small onion, chopped Pinch of asafoetida 1 tsp of chopped ginger 200g brown rice 200g
red lentils
1.25 litres water 115g sweet potato cubed 3 tbsp
nutritional yeast
Heat the oil in a saucepan over medium heat and add the chopped onion, being careful not to burn. Add the asafoetida and ginger and continue to stir.
Add in the rice and lentils and sauté for a further few minutes.
Pour in the water and sweet potato and bring to a boil. Reduce the heat and simmer until the water is mostly absorbed and everything is soft, approximately 40 mins. Add more water if needed to reach the desired consistency.
Stir in the nutritional yeast and season with salt and pepper.
Meat-free Chicken Kitchari
(serves 6) Gluten-free; egg-free 3 meat-free chicken breasts 1 tbsp olive oil 200g
white basmati rice
200g
yellow lentils
1 small onion 450ml water 450ml
vegetable stock
1 tbsp
coconut oil
1 tsp
black mustard seeds
1 tsp
ground coriander
To serve: Dollop of yoghurt or coconut cream (optional)
Preheat the oven to 200°C/180°C fan/gas mark 6. Rub the meat-free chicken breasts with olive oil and sprinkle with salt and pepper, then place on an ovenproof tray and cook for 30-40 mins.
Meanwhile, warm the coconut oil in a pan and add the mustard seeds. When the seeds begin to pop add the onion – cook and stir for 5-10 mins before stirring in the ground coriander.
Add rice and mung beans to the mixture and stir for 4 mins before adding the water and stock. Bring to the boil and then simmer (covered) for 30 mins or until all the water has been absorbed.
Serve topped with sliced meat-free chicken and a dollop of yoghurt or coconut cream if desired.