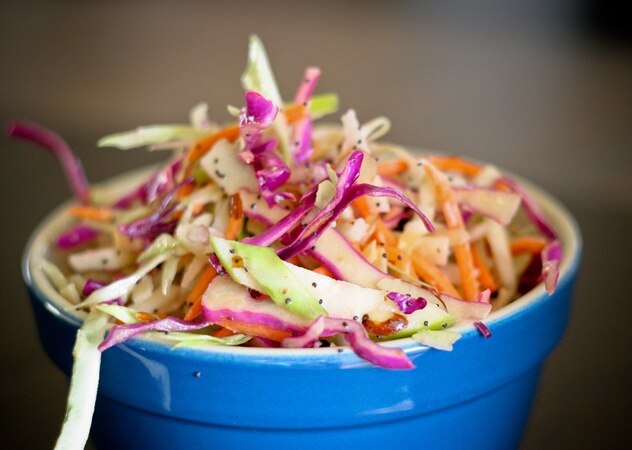 What's the buzz?
Cabbage has never been the most trendy of vegetables, but with coleslaw (or 'slaw' as it's now referred to by fashionable foodies), it's getting a new lease of life. Forget the mayo-drenched version on the side of your pizza takeaway – slaw is a healthier and tastier way of getting the most out of cabbage.
How is it good for you?
There is a reason cabbage has been traditionally used in diets. Cabbage is low in calories and rich in vitamin C – eating one cup of chopped raw red cabbage provides a whopping 85% of your recommended vitamin C for the day. Plus raw cabbage is a solid source of fibre, with one cup containing more than a tablespoon of the stuff.
How to make your own
Remove the core and outer leaves of the cabbage. Finely chop the cabbage and place in a bowl. To make a simple dressing, combine half a cup of low-fat mayo with one tablespoon of apple cider vinegar, 1 tsp of coconut sugar and a squeeze of lemon. Alternatively experiment with these variations:
Spicy Red Cabbage Slaw
(serves 4 as a side)
gluten-free; vegan; egg-free; dairy-free
100 ml olive oil
2 tbsp of tamari
1 garlic clove
1 green chilli
2 spring onions
One bag of mushrooms (peeled and chopped)
Half a head of red cabbage
110g grated carrot
Juice of one lemon
Sesame seeds
to garnish
Finely chop the cabbage, garlic, chilli and spring onion, then toss together in a large bowl with the carrot and mushrooms.
Pour over the olive oil, tamari and lemon juice and serve.
Cashew Cream Coleslaw
(serves 4 as a side)
gluten-free; vegan; egg-free; dairy-free
Half a head of cabbage
110g grated carrot
110g
cashews
(soaked for an hour)
110ml water
1 tbsp
apple cider vinegar
Squeeze of lemon
Salt and pepper
Handful of
pumpkin seeds
First make the cashew cream. Soak the cashews in water for 1-3 hours – then strain. Add the softened cashews and half a cup of water to a blender and mix until smooth.
Add the lemon and apple cider vinegar and give the mixture one final blend. Finely chop the cabbage, mix with the grated carrot and pour over the dressing. Top with pumpkin seeds for extra crunch.
Shop our
Food & Drink
range.