Thinking about taking a Vitamin B supplement, but aren't too sure what the options are and which one's best for you? Before we start, it's probably we best explain this – you've got Vitamin B complex, which is made up of eight B vitamins. The entire Vitamin B family is made up of – Vitamin B1, B2, B3, B5, B6, B7, B9 and B12.
1
Each of these 'family members' play a key role in helping with energy levels, cognitive function and energy-yielding metabolism, plus much more. So which one of these B vitamins should you get a supplement for? For example, which Vitamin B is best for energy? What B vitamin is best for normal hair maintenance? This is our list of the best B vitamin supplements, which have been highly-rated by many of our customers. Take a look, it'll help you make up your mind: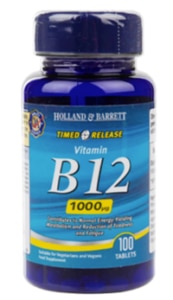 Customer rating:
4.7 stars Suitable for vegetarians and vegans, these
vitamin B12
tablets contain a timed release dose of 1000 ug per tablet. Take one a day, preferably with a meal. "I've only been taking Vit B12 for a few weeks but already noticing a difference in energy levels, will definitely keep taking." – Rosie and Jim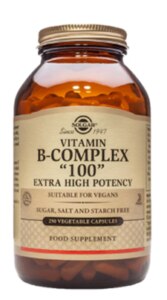 Customer rating:
4.8 stars Suitable for vegetarians, these one-a-day tablets contain Vitamin B1, B6, B3, B2, B12 and folic acid. Take one a day, preferably with a meal. 'Has helped my hair grow and my energy has increased, great product. It took two weeks of taking it before the results started to show.' – Olivia2020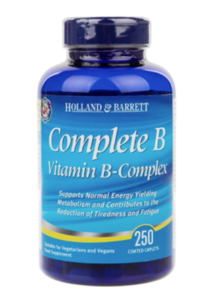 Customer rating:
4.7 stars These tablets contain an excellent source of B vitamins, including Thiamin (B1), Riboflavin (B2),
Niacin
(B3) and Vitamins B6 and B12. Take two caplets a day, preferably with meals. Suitable for vegetarians and vegans. 'This is a really good product. I decided to try it as I always feel tired and worn out. A few weeks in, I can feel the difference. I have more energy which has also improved my motivation. I recommend you to give it a try.' – Anonymous.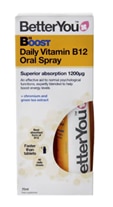 Customer rating:
4.7 stars A quick and convenient, energy-yielding oral spray, containing Vitamin B12, which helps to reduce tiredness and fatigue. It's suitable for vegans, vegetarians and coeliacs. Use four sprays daily – under the tongue or inside the cheek for greater absorption. 'I was feeling so lethargic and couldn't find the energy and the get-up-and-go to get things done, even around the house, which wasn't me! Since I've started using this B12 vitamin spray, I've been feeling more myself and getting loads done like I used to!' – Kath89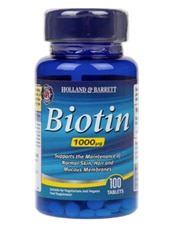 Customer rating:
4.3 stars Part of the B vitamin family,
biotin
is an essential vitamin that helps maintain healthy hair, skin, nails and mucus membranes. Take one to two tablets a day, preferably with meals. Suitable for vegetarians and vegans. 'They really work. I am still on my first bottle and the difference they have made is remarkable. I would recommend them.' - Christine A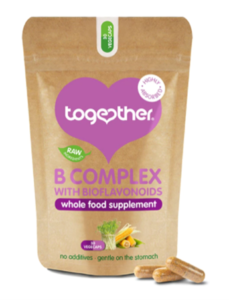 Customer rating:
5 stars These tablets contain all eight essential B vitamins, including folic acid in folate form and the highly-absorbed methylcobalamin form of Vitamin B12. Take one capsule daily, with or without food. 'Good quality B-complex, no magnesium stearate, free from unnecessary stuff.' – Ryfka.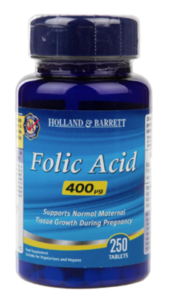 Customer rating:
4.6 Each tablet contains 400ug of folic acid (200% of nutritional reference value) and supports normal maternal tissue growth during pregnancy. Take one tablet daily, preferably with a meal. 'I have been taking folic acid for couple of years tried other shops make but found Holland and Barrett is the best.'- San 238 Feeling a bit more in-the-know about taking Vitamin B supplements now? Hopefully, the recommendations above will help you decide on which is the best Vitamin B complex to take in supplement form. For more on the power of Vitamin B, check out this article,
'What's Vitamin B and why do I need it?'
Shop Vitamin B
Last Updated:
23rd November 2020
Sources:
1 https://www.healthline.com/health/food-nutrition/vitamin-b-complex#:~:text=B%20vitamins%20play%20a%20vital,cell%20health