Dairy-free chicken tikka masala
A dairy-free version of the nation's favourite dish. You could use coconut yoghurt instead of soya, if you prefer.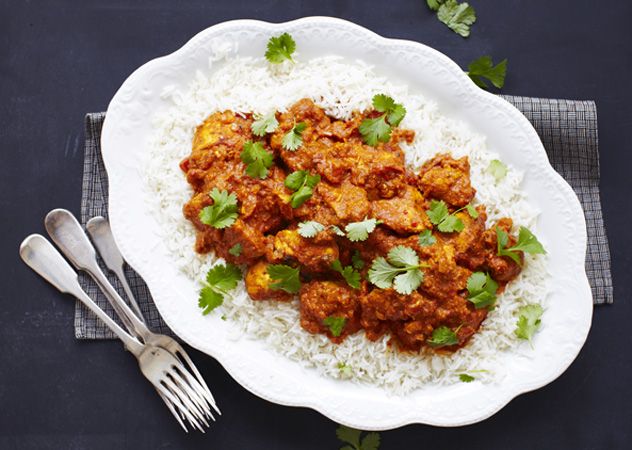 10 minutes, plus marinating time overnight
Cooking time: 60 minutes - Serves 4
Gluten free
Egg free
Dairy free
Ingredients
600g chicken breast, cut into 4cm chunks
300g basmati rice, cooked to serve
FOR THE MARINADE:
Juice of 1/2 lemon
1 tsp ground coriander
1 tsp ground cumin
1 tsp sweet smoked paprika
2 tsp garam masala
1/2 tsp salt
3 cloves garlic, finely grated
125g plain sweetened soya yoghurt, plus extra to serve
FOR THE SAUCE:
2 tbsp sunflower oil
Handful fresh coriander
1 onion, chopped finely
2 cloves garlic, chopped finely
Thumb-sized piece ginger, finely grated
1 red chilli, deseeded and chopped finely
1 tsp ground coriander
1 tsp turmeric
1 tsp sweet smoked paprika
1 tsp garam masala
25g ground almonds
400g tin chopped tomatoes
150ml gluten-free chicken stock made with 1/2 cube
400ml tin coconut milk
NUTRITIONAL INFO
Per Serving
Kcals 745
Fat(g) 30
Sat fat(g) 18
Carbs(g) 68
Sugar(g) 7
Protein(g) 47
Fibre(g) 1.7
Salt(g) 1.4
Method
1. Marinate the chicken for at least a few hours and preferably overnight. Put the chicken in a non-metallic bowl and squeeze the lemon half over it. Add the spices, salt and garlic, then stir in the yoghurt to coat. Cover with clingfilm and chill until needed.
2. Make the sauce. Heat the oil in a pan. Separate the coriander stalks from the leaves and chop the stalks finely. Add to the pan with the onion, garlic, ginger and chilli. Cook gently for about 10 minutes, stirring frequently, until golden. Add the spices and almonds and cook, stirring, for 2 minutes. Add the tomatoes and stock and simmer for 5 minutes. Add the coconut milk and simmer for about 30 minutes.
3. While the sauce is simmering, cook the rice according to the packet instructions.
4. When ready to serve, get your oven as hot as possible. Put the chicken pieces on a grill rack, with the tray underneath lined with foil. Cook for 10 minutes or until the chicken is just cooked through (cut into the chunkiest piece to check). Tip the chicken into the sauce, swirl through a little more soya yogurt and scatter the coriander leaves over. Serve with the rice.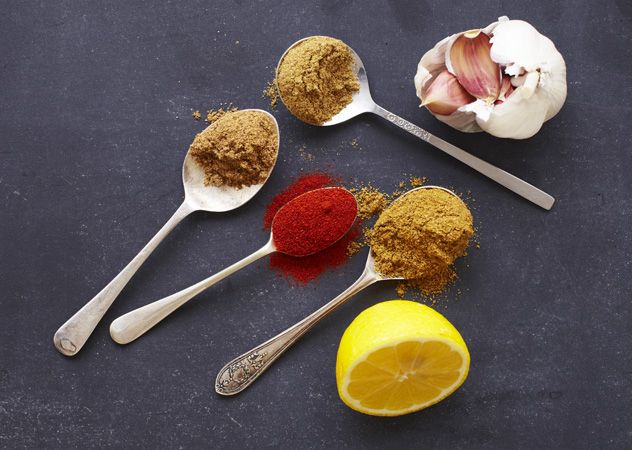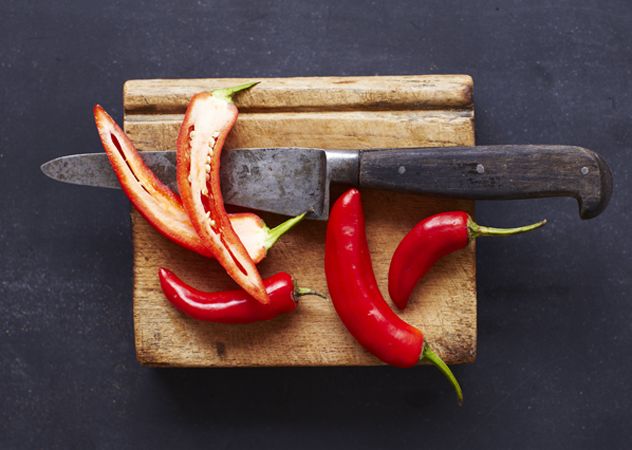 Takes 25 Minutes - Serves 2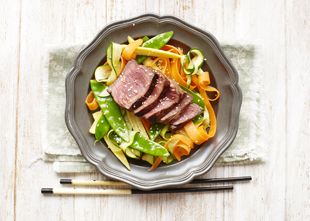 Takes 55 Minutes - Serves 6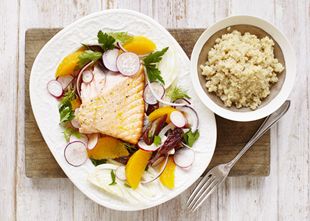 10 minutes, plus marinating time overnight
Cooking time: 60 minutes - Serves 4
Gluten free
Egg free
Dairy free
Ingredients
FOR THE SAUCE:
2 tbsp sunflower oil
Handful fresh coriander
1 onion, chopped finely
2 cloves garlic, chopped finely
Thumb-sized piece ginger, finely grated
1 red chilli, deseeded and chopped finely
1 tsp ground coriander
1 tsp turmeric
1 tsp sweet smoked paprika
1 tsp garam masala
25g ground almonds
400g tin chopped tomatoes
150ml gluten-free chicken stock made with 1/2 cube
400ml tin coconut milk
600g chicken breast, cut into 4cm chunks
300g basmati rice, cooked to serve
FOR THE MARINADE:
Juice of 1/2 lemon
1 tsp ground coriander
1 tsp ground cumin
1 tsp sweet smoked paprika
2 tsp garam masala
1/2 tsp salt
3 cloves garlic, finely grated
125g plain sweetened soya yoghurt, plus extra to serve
NUTRITIONAL INFO
Per Serving
Kcals 745
Fat(g) 30
Sat fat(g) 18
Carbs(g) 68
Sugar(g) 7
Protein(g) 47
Fibre(g) 1.7
Salt(g) 1.4