Sesame beef on stir-fried veg
Using fillet steak means this tasty meal is perfect for a romantic occasion, and is surprisingly virtuous too.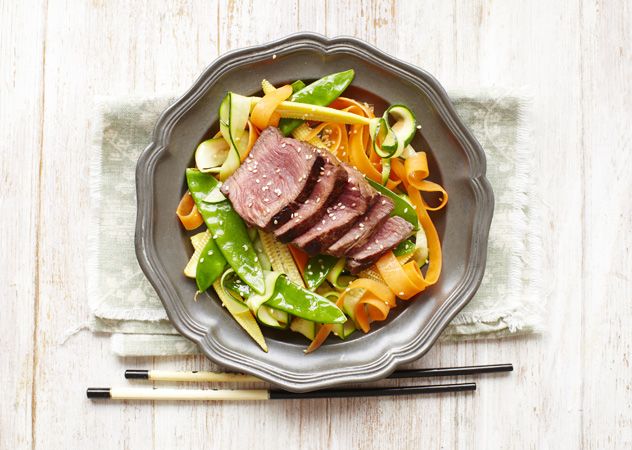 Preparation time: 10 minutes
Cooking time: 15 minutes - Serves 2
Gluten free
Egg free
Dairy free
Ingredients
2 fillet steaks (about 165g each)
1 large carrot
1 large courgette
200g pack baby corn and mange tout
1 tbsp sesame seeds
1 tbsp sunflower oil
FOR THE MARINADE: 1 thumb-sized piece ginger, peeled
1 garlic clove
1 tbsp toasted sesame oil
1 tbsp honey
1 tsp fish sauce
1 tsp tamari
NUTRITIONAL INFO
Per Serving
Kcals 473
Fat(g) 26
Sat fat(g) 7
Carbs(g) 17
Sugar(g) 16
Protein(g) 42
Fibre(g) 6.5
Salt(g) 2.7
Method
1.Heat the oven to 200ºC/180ºC fan/gas mark 6 and place a small tray inside. For the marinade, finely grate the ginger and garlic into a non-metallic dish. Add the sesame oil, honey, fish sauce and tamari and stir, then add the steaks and turn to coat. Set aside while you prepare the veg.
2.Peel the carrot and then, using a mandoline or cheese slice, peel off long strips to make ribbons. Discard the woody core. Do the same with the courgette (no need to peel first, though), discarding the pippy centre. Halve the baby corn.
3.Heat a small pan for the sesame seeds. Toast for a few minutes until lightly golden, then tip onto a plate. Add the steaks to the hot pan and sear for 2 minutes on each side, then transfer to the preheated tray and drizzle the remaining marinade over. Pop in the oven and cook for a further 8 minutes, turning once.
4.Once you've turned the steak, heat a wok and add the sunflower oil. Add the corn and mange tout and stir-fry for 1 minute, then add the carrot and courgette and stir fry for a further 2 minutes or until just tender.
5.Put the steak on a plate and sprinkle with the sesame seeds. Divide the veg between 2 plates. Slice the steak and place on top of the veg. Drizzle with any sauce from the tray and serve.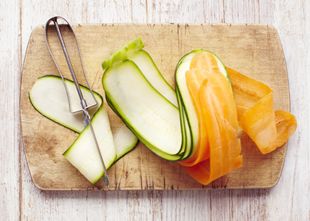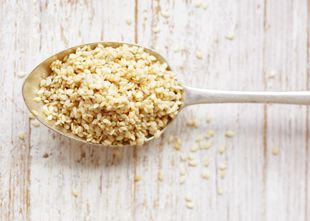 Takes 40 minutes - Serves 4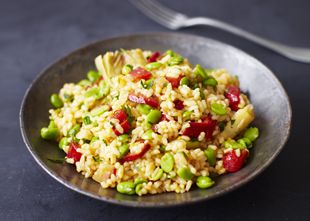 Takes 1 hour 10 minutes - Serves 4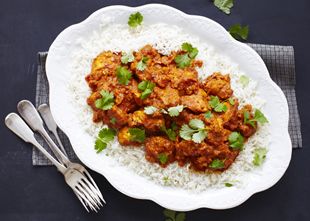 Preparation time: 10 minutes
Cooking time: 15 minutes - Serves 2
Gluten free
Egg free
Dairy free
Ingredients
2 fillet steaks (about 165g each)
1 large carrot
1 large courgette
200g pack baby corn and mange tout
1 tbsp sesame seeds
1 tbsp sunflower oil
FOR THE MARINADE: 1 thumb-sized piece ginger, peeled
1 garlic clove
1 tbsp toasted sesame oil
1 tbsp honey
1 tsp fish sauce
1 tsp tamari
NUTRITIONAL INFO
Per Serving
Kcals 473
Fat(g) 26
Sat fat(g) 7
Carbs(g) 17
Sugar(g) 16
Protein(g) 42
Fibre(g) 6.5
Salt(g) 2.7