Broad bean and carrot falafel
For a lighter falafel, try broad beans instead of chickpeas, in our gluten- and dairy-free recipe for the spicy staple from the Middle East.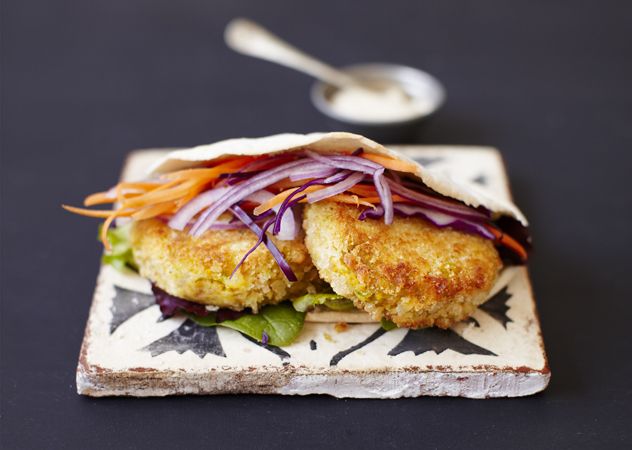 Preparation time: 15 minutes, plus chilling
Cooking time: 20 minutes - Serves 6
Vegetarian
Gluten free
Dairy free
Ingredients
1 large egg, beaten
4 slices gluten-free bread made into breadcrumbs
Mild olive oil, for frying
6 gluten-free pittas
Carrot, red cabbage and mint slaw (see recipe Moroccan lamb pittas)
FOR THE TAHINI SAUCE:
3 tbsp tahini
3 tbsp oat cream
1 tbsp olive oil
Squeeze of lemon
FOR THE FALAFEL:
500g frozen broad beans, blanched and podded (300g podded weight)
1 large carrot, grated
400g tin chickpeas, rinsed and drained
1 small red onion, roughly chopped
2 garlic cloves, roughly chopped
Handful each parsley and coriander, roughly chopped
Zest of 1 lemon
1 tsp coriander seeds, roughly crushed
1 tsp cumin seeds, roughly crushed
1/4 tsp chilli flakes
1/4 tsp smoked sweet paprika
1 slice gluten-free bread made into breadcrumbs
Method
1. For the falafel, dry the podded broad beans as much as you can by patting with kitchen paper. Place in a food processor with the remaining ingredients and some seasoning and whizz to a paste. Keep in the fridge for a couple of hours.
2. When ready to serve, heat the oven to 200ºC/180ºC fan/gas mark 6. Put the breadcrumbs on a plate and the beaten egg on another. Shape the falafel mixture into 12 patties and coat in the egg then the breadcrumbs. Heat the oil in a large frying pan and when hot, add half the falafel. Fry for a couple of minutes on each side until golden brown. Wipe the pan with kitchen paper and repeat with the remaining falafel. Put them all on a tray and put in the oven for 15 minutes to finish cooking.
3. Meanwhile, mix the ingredients for the tahini sauce and thin to a drizzling consistency with water. Warm the pittas according to pack instructions. Split and fill with salad and serve with 2 falafel each. Drizzle with the tahini sauce.
TIP!
Podding the broad beans is a bit time-consuming but worth it, as it gives these falafels a tender texture and a brilliant green colour inside.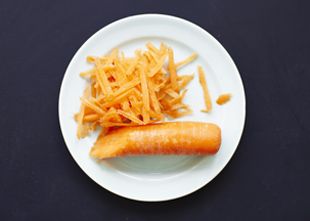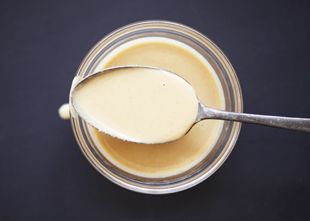 Takes 2 hours 25 Minutes - Serves 6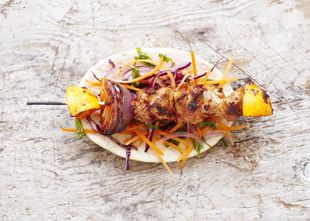 Takes 25 Minutes - Serves 6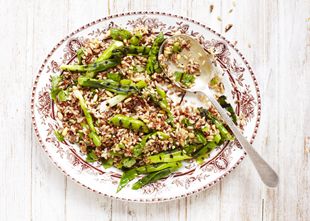 Preparation time: 15 minutes, plus chilling
Cooking time: 20 minutes - Serves 6
Vegetarian
Gluten free
Dairy free
Ingredients
1 large egg, beaten
4 slices gluten-free bread made into breadcrumbs
Mild olive oil, for frying
6 gluten-free pittas
Carrot, red cabbage and mint slaw (see recipe Moroccan lamb pittas)
FOR THE TAHINI SAUCE:
3 tbsp tahini
3 tbsp oat cream
1 tbsp olive oil
Squeeze of lemon
FOR THE FALAFEL:
500g frozen broad beans, blanched and podded (300g podded weight)
1 large carrot, grated
400g tin chickpeas, rinsed and drained
1 small red onion, roughly chopped
2 garlic cloves, roughly chopped
Handful each parsley and coriander, roughly chopped
Zest of 1 lemon
1 tsp coriander seeds, roughly crushed
1 tsp cumin seeds, roughly crushed
1/4 tsp chilli flakes
1/4 tsp smoked sweet paprika
1 slice gluten-free bread made into breadcrumbs
NUTRITIONAL INFO
Per Serving
Kcals 662
Fat(g) 38
Sat fat(g) 13
Carbs(g) 43
Sugar(g) 9.5
Protein(g) 37
Fibre(g) 4
Salt(g) 1.4