Fishcakes with sweet chilli dip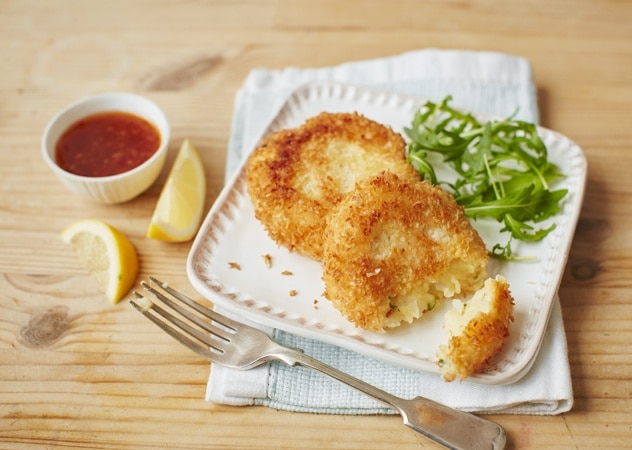 Preparation time 20 minutes plus chilling
Cooking time 10 minutes
Makes 6
Ingredients
200ml skimmed milk
1 bay leaf
4 peppercorns
200g cod
2 potatoes, boiled and mashed
1 tbsp parsley, chopped
50g gluten-free flour, seasoned
2 eggs, beaten
100g desiccated coconut
1 tbsp olive oil
Lemon wedges, to serve
For the dip:
30g sweet chilli sauce
1 tsp fish sauce
1 lime, juice only
1 tsp gluten-free soy sauce (or tamari)
NUTRITIONAL INFO
Per 100g
Energy (kcal) 163
Protein (g) 6.5
Fat (g) 8.9
Sat Fat (g) 5.9
Carbs (g) 13.1
Sugar (g) 3.8
Fibre (g) 2.5
Salt (g) 0.4
Method
1. In a small saucepan, heat the milk with the bay leaf and peppercorns. Once the milk is simmering, add in the cod and allow to simmer for 5-10 minutes or until the cod is completely cooked and can be flaked apart.
2. Remove any skin from the fish and try to keep it in large flakes as you mix it with the mash, butter, lemon zest, spring onion, parsley and seasoning.
3. Put the flour, eggs and coconut into a saucer each. Divide the fish mixture into 6 burger shapes and then coat them in the flour, egg and coconut. Repeat until all of the fishcakes are coated. Chill in the fridge for 30 minutes to firm up.
4. Meanwhile, make the dipping sauce by combining all the ingredients.
5. Once the fishcakes have rested, heat the olive oil in a large frying pan and then fry the fishcakes until golden and hot. Serve hot, with the dipping sauce.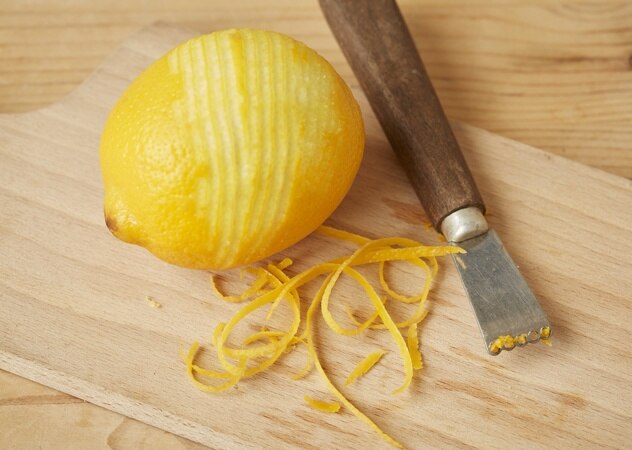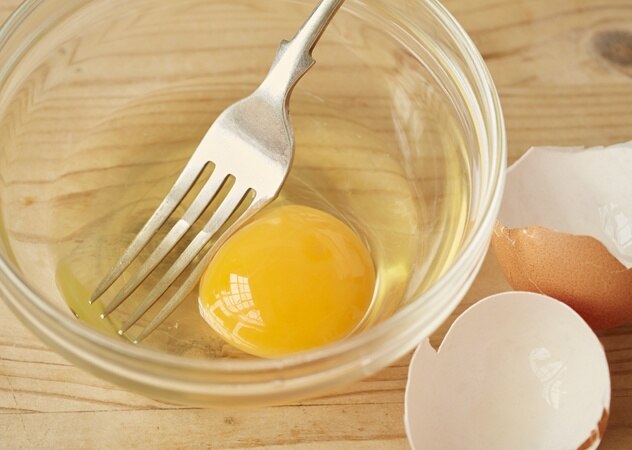 Takes 40 minutes - Serves 2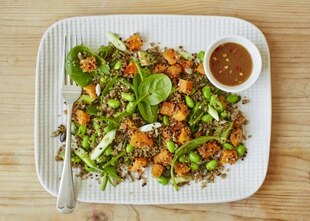 Takes 30 minutes - Serves 4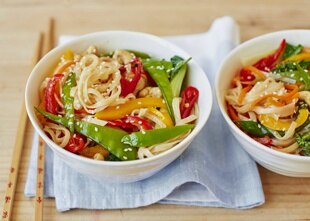 Preparation time 20 minutes plus chilling
Cooking time 10 minutes
Makes 6
Ingredients
200ml skimmed milk
1 bay leaf
4 peppercorns
200g cod
2 potatoes, boiled and mashed
1 tbsp parsley, chopped
50g gluten-free flour, seasoned
2 eggs, beaten
100g desiccated coconut
1 tbsp olive oil
Lemon wedges, to serve
For the dip:
30g sweet chilli sauce
1 tsp fish sauce
1 lime, juice only
1 tsp gluten-free soy sauce (or tamari)
NUTRITIONAL INFO
Per 100g
Energy (kcal) 163
Protein (g) 6.5
Fat (g) 8.9
Sat Fat (g) 5.9
Carbs (g) 13.1
Sugar (g) 3.8
Fibre (g) 2.5
Salt (g) 0.4