Turkey and Sweet Potato Burgers with Courgette Fritters
For a healthier BBQ option, turkey mince is mixed with grated sweet potato and fried until golden. Leave out the buns and cheese to make them gluten and dairy-free too.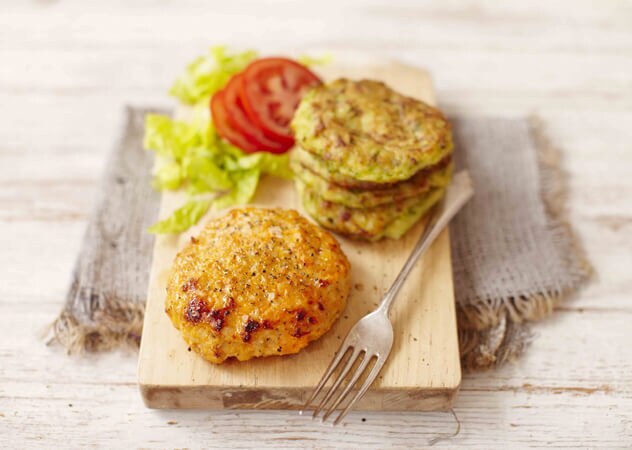 Preparation time: 25 minutes
Cooking time: 1 hour 30 minutes
Serves 4
Ingredients
3 sweet potatoes
400g turkey mince
2 spring onions, finely diced
1 garlic clove, crushed

Fritters:
2 courgettes, grated
1 garlic cloves, crushed
2 spring onions, minced
1/2 ground cumin
Pinch of cayenne pepper
4 Cheddar slices (optional)

150g self raising flour
20g parmesan, grated
1 tsp lemon zest
Method
1. Preheat the oven to 180ºc/160ºc fan. Pierce the sweet potatoes and wrap tightly in foil. Bake for 1 hour or until completely soft. Spoon out the flesh and mash with seasoning. Allow to cool.

2. When the potato is cool, mix through the turkey mince and remaining ingredients. Shape into 4 burgers and chill on an oiled baking tray.

3. To make the fritters, grate the courgettes and combine with the remaining ingredients and mix with 50-100ml water until you have a stiff but pourable consistency. The exact amount needed will depend on the liquid in the courgettes.

4. Season the burgers and transfer to the oven and bake for 15-20 minutes or until golden and cooked through. If using cheese, lay this on top for the last 2-3 minutes.

5. In a large non-stick frying pan, heat a little oil and fry the fritters. Spoon about 2 tbsp worth of mixture for each one and push down slightly to make sure they are quite flat. Fry for 2-3 minutes on each side or until golden and cooked through.

6. Serve the burgers with the fritters and a little salad.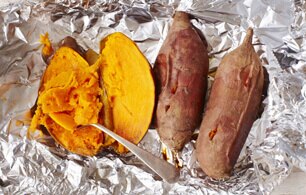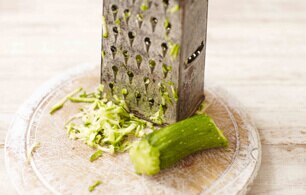 Takes 1 hour - Serves 4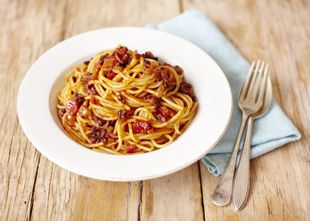 Takes 15 Minutes - Serves 1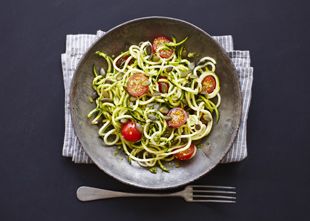 Preparation time: 25 minutes
Cooking time: 1 hour 30 minutes
Serves 4
Ingredients
3 sweet potatoes
400g turkey mince
2 spring onions, finely diced
1 garlic clove, crushed

Fritters:
2 courgettes, grated
1 garlic cloves, crushed
2 spring onions, minced
1/2 ground cumin
Pinch of cayenne pepper
4 Cheddar slices (optional)

150g self raising flour
20g parmesan, grated
1 tsp lemon zest