Vegetable loaf with cheat's Romesco sauce
Serve up this wonderful vegetable loaf with a big green salad, or roasties and extra veg for a Sunday lunch.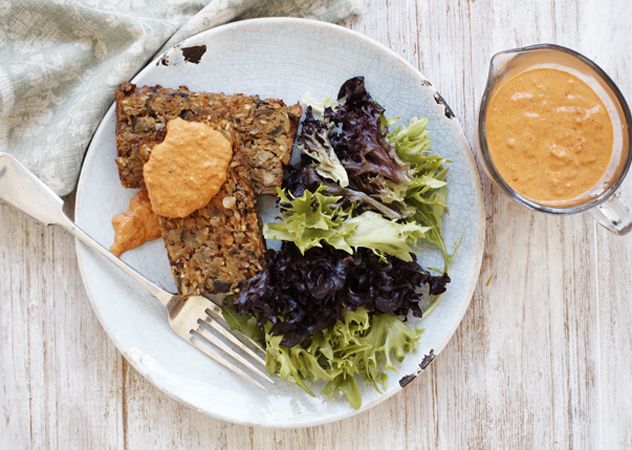 Preparation time: 35 minutes
Cooking time: 45 minutes - Serves 6
Ingredients
1 tbsp olive oil
15g butter
1 onion, finely diced
2 celery sticks, finely chopped
1 small aubergine, finely diced (250g)
100g chestnut mushrooms, finely chopped
2 garlic cloves, finely chopped
1 carrot, grated (125g)
1/2 tsp dried oregano
1/2 tsp dried thyme
100g red lentils
1 tbsp tomato purée
300ml vegetable stock
100g fresh white breadcrumbs
150g finely-chopped mixed nuts (we used almonds, hazelnuts and walnuts)
100g grated cheddar cheese
Handful chopped curly parsley
3 large eggs, beaten
FOR THE ROMESCO SAUCE:
3 roasted red peppers from a jar, drained (about 225g)
75g hazelnut or cashew butter
1/4 tsp smoked sweet paprika
1 tbsp extra virgin olive oil
Method
1. Heat the oven to 180ºC/160ºC fan/gas mark 4. Line a large loaf tin with baking parchment, then heat a wide pan with the oil and butter and add the onion and celery. Cook for 5 minutes until starting to soften. Add the aubergine, mushrooms and garlic and cook for 10 minutes until soft.
2. Stir the carrot through and cook for a few minutes, then stir in the herbs, lentils and tomato purée. Add the stock, cover and cook on a low heat for about 15 minutes until all the liquid has been absorbed. Leave to cool for about 20 minutes.
3. Stir the breadcrumbs, nuts, cheese, parsley, beaten egg and a little seasoning into the mixture and mix well. Press into the loaf tin and cover with foil. Bake for 20 minutes, then remove the foil and cook for 25 minutes more or until golden brown and firm when lightly pressed.
4. To make the Romesco sauce, whizz together all the ingredients using a stick blender. Heat briefly in the microwave or in a small pan and serve with slices of the loaf.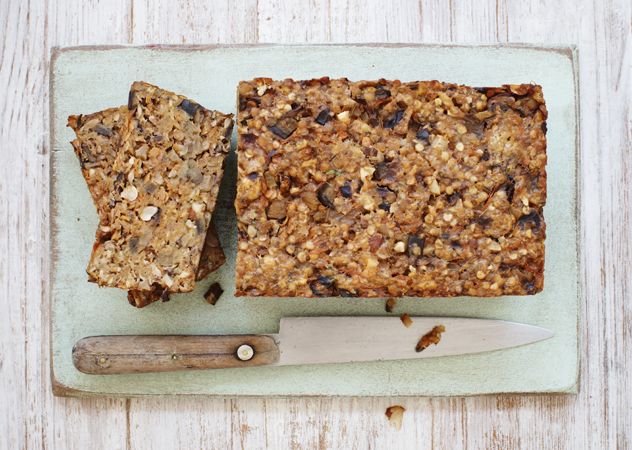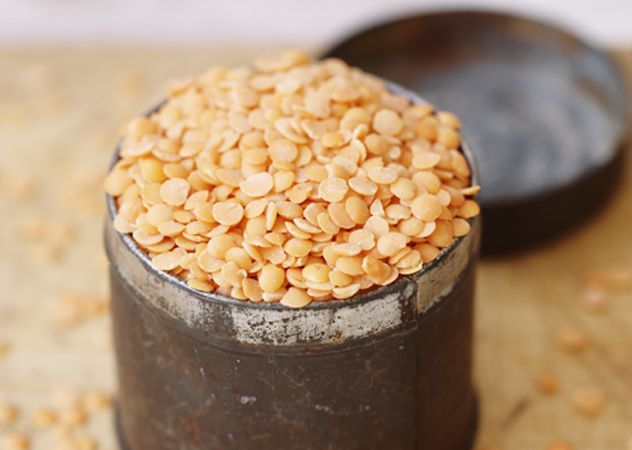 Takes 45 Minutes - Serves 2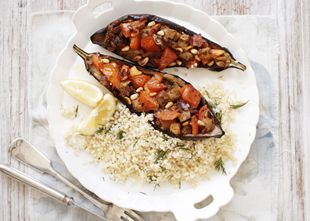 Takes 50 Minutes - Serves 4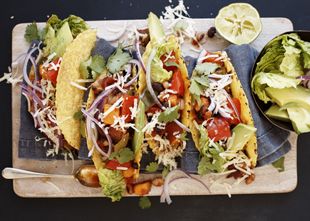 Preparation time: 35 minutes
Cooking time: 45 minutes - Serves 6
Ingredients
1 tbsp olive oil
15g butter
1 onion, finely diced
2 celery sticks, finely chopped
1 small aubergine, finely diced (250g)
100g chestnut mushrooms, finely chopped
2 garlic cloves, finely chopped
1 carrot, grated (125g)
1/2 tsp dried oregano
1/2 tsp dried thyme
100g red lentils
1 tbsp tomato purée
300ml vegetable stock
100g fresh white breadcrumbs
150g finely-chopped mixed nuts (we used almonds, hazelnuts and walnuts)
100g grated cheddar cheese
Handful chopped curly parsley
3 large eggs, beaten
FOR THE ROMESCO SAUCE:
3 roasted red peppers from a jar, drained (about 225g)
75g hazelnut or cashew butter
1/4 tsp smoked sweet paprika
1 tbsp extra virgin olive oil