Vietnamese Shredded Chicken Noodle Salad
This easy, filling dish is full of fresh flavours and uses rice noodles to keep things gluten-free. Great for lunch or a quick summer supper.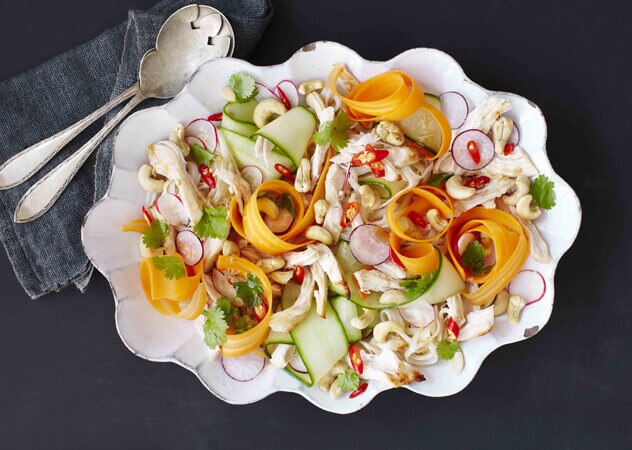 Preparation time: 15 minutes
Cooking time: 5 minutes
Serves 4
Ingredients
100g gluten-free rice noodles
3 carrots, sliced into ribbons
1 cucumber, sliced into ribbons
4-5 radishes, finely sliced

Dressing:
1 tbsp palm sugar
2 soy sauce
1 tbsp fish sauce
Juice of 1 lime
1 garlic clove, crushed
1 birds eye chili, finely sliced
1 tsp sesame oil
2 cooked chicken breasts, shredded
20g coriander leaves, picked
50g cashew nuts
Lime wedges, to serve
Method
1. In a small saucepan, add in the palm sugar, soy and fish sauce and heat gently until the sugar dissolves. Make sure not to boil the liquid. Turn off the heat and add in the remaining dressing ingredients. The dressing can stay a little warm or cool to room temperature.

2. Cook the rice noodles according to their packet instructions and then toss with a little splash of sesame oil to stop them sticking.

3. On a large platter, arrange the noodles with the carrot, cucumber and radishes. Sprinkle over the chicken, coriander and cashews.

4. Drizzle the dressing over 5 minutes before serving so it can start to soften the vegetables slightly. Serve with lime wedges.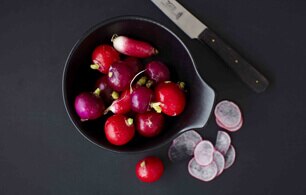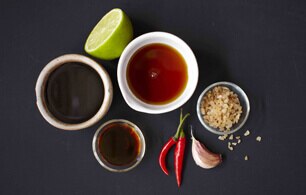 Takes 0.5 hours - Serves 2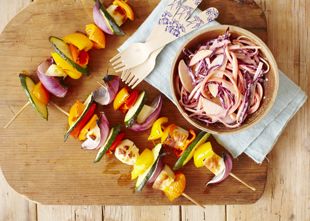 Takes 25 Minutes - Serves 6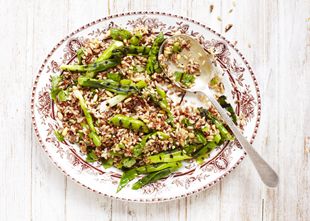 Preparation time: 15 minutes
Cooking time: 5 minutes
Serves 4
Ingredients
100g gluten-free rice noodles
3 carrots, sliced into ribbons
1 cucumber, sliced into ribbons
4-5 radishes, finely sliced

Dressing:
1 tbsp palm sugar
2 soy sauce
1 tbsp fish sauce
Juice of 1 lime
1 garlic clove, crushed
1 birds eye chili, finely sliced
1 tsp sesame oil
2 cooked chicken breasts, shredded
20g coriander leaves, picked
50g cashew nuts
Lime wedges, to serve